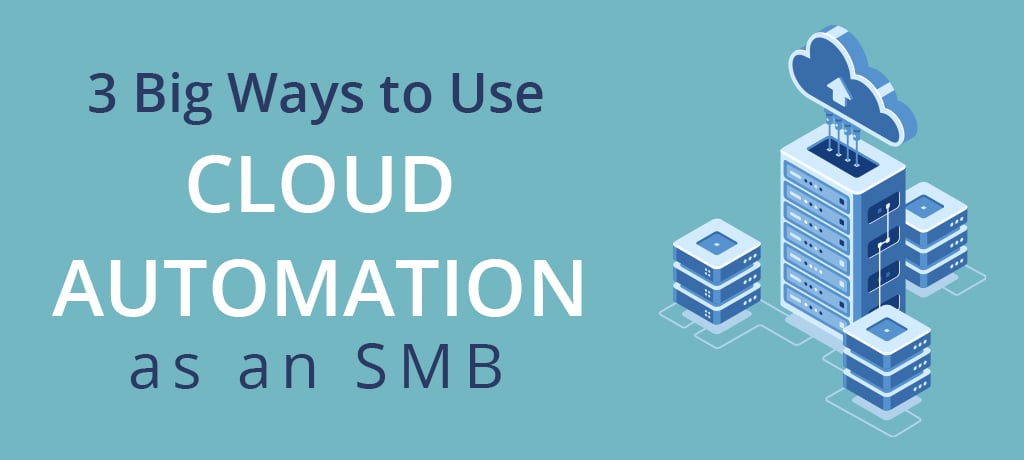 3 Big Ways to Use Cloud Automation as an SMB
When it comes to data storage, processing, and collaboration, cloud computing offers unparalleled advantages – especially for small to mid-sized businesses. In the wake of COVID-19 and the growing popularity of remote work, it's become common (and crucial) for businesses to choose cloud solutions over traditional local hosting and on-premise software.
Cloud automation is the use of technology to perform tasks with reduced human assistance to unite different cloud management processes. It allows Fortune 500 companies and small business owners alike to work and collaborate conveniently and efficiently.
As FileMaker experts, we are uniquely positioned to maximize your business's productivity. The Claris FileMaker platform is ideal for automating time-consuming business tasks via custom software applications, created for teams just like yours.
We're here to harness the power of FileMaker so that you can tap into the real benefits of cloud automation. Take a look at the rest of this article to see how we'll use the cloud and custom apps to help your SMB succeed.
(1) Support Your Infrastructure
Your infrastructure is crucial to your company, and so is the ability to quickly adjust or upgrade your business's software when necessary. As a small business owner, you're always looking for ways to use your resources wisely and get the biggest bang for your buck.
Infrastructure automation is a process in which you reduce human interaction with your IT systems, including servers, storage, operations systems, and even your network. This improves efficiency, speed of workload, and cost savings. You can save on labor expenses without reducing the quality of your operations.
Here are some ways in which cloud and data automation can support your infrastructure:
Reduce labor costs by eliminating manual processes
Improve the efficiency and accuracy of your workflow development
Allow your organization to scale faster with more agile business processes
Offer consistent security, control, and compliance across a multi-cloud environment
Future-proof your systems by automatically delivering updates
FileMaker Pro allows SMBs to easily create custom applications that ensure cloud automation is available for everything from human resources to employee management. At Harlow Technologies, we'll work with you to create a custom app that will help your business run more efficiently.
(2) Better Protect Your Data
A recent survey from the Small Business Administration says that 88% of small businesses feel they are vulnerable to cyberattacks. Considering that the average cost of a data breach in 2021 was over $4 million, most small business owners simply cannot afford to face that kind of risk.
But what does cloud automation have to do with helping your small business protect its data? Well, cloud automation is important in two key areas: physical security and cybersecurity.
Physical security involves the use of cameras, drones, and other surveillance equipment that protects your physical assets. Although this is important, it doesn't help much with the modern attacks that occur via email and digital devices.
Cybersecurity, on the other hand, focuses more specifically on the invisible threats that occur via your computers, tablets, cell phones, and other forms of technology. Cloud automation is a huge tool when it comes to cybersecurity. By automating your cloud storage and backup solutions via the cloud, you reduce the risk of human error and give yourself additional coverage in the event of a data breach or attack.
As experts in everything FileMaker, Harlow Tech will help you develop systems and applications that make full use of cloud automation and secure your SMB's data and assets. Automated security measures can keep an eye on your small business around the clock and alert you to any suspicious activity, even when your employees are home in bed.
(3) Streamline Your Sales
Sales automation via the cloud is one of the best things that a small can do to increase sales, productivity, and the bottom line. Automation doesn't make your sales staff obsolete. In fact, it amplifies their strengths and helps them with the tedious tasks that in the past took up so much of their time.
Sales automation can eliminate repetitive tasks related to follow-ups, sales pipeline, and even lead acquisition. Help your sales staff with these tasks by using the power of cloud automation.
Examples of tasks that can be automated within the cloud include:
Email scheduling
Appointment and proposal reminders
Autodialing programs
Reports
Your sale staff should be doing what they do the best-making sales. You're not paying them to run reports and add appointments to their calendars. That doesn't help the bottom line. With cloud automation, these tasks can be handled with ease – and without taking precious time away from closing deals or generating leads.
Cloud automation leads to greater efficiency, productivity, and sales. With Harlow Tech's expertise with FileMaker, we can help your small business:
Boost productivity
Great lead to sales ratios
Shorter sales cycles
Better sales data
Fewer lost leads
Reduces cost per sale
We build custom FileMaker applications for businesses just like yours, who are looking to embrace more automation and cloud services. Talk to us about getting your team on the FileMaker Cloud, which makes sharing, rapid deployment, and scalability easier than ever.
Ready to Automate With the Cloud? Contact Harlow Tech
Your small business is important to you. We know that.
We also know that cloud automation is not a passing fad, and it can benefit your business in many ways, including supporting your infrastructure, protecting your data, and increasing your sales.
At Harlow Tech, we can make these things a reality for your business. FileMaker is one of the best ways to embrace and utilize cloud automation via custom business applications. With 25 years of experience, we know exactly how this platform can (and will) help your business.
Claris FileMaker is continually producing better versions of its products, and we're happy to show you how they'll benefit your team. To reap the power of cloud automation, contact Harlow Technologies today.
Web Manager