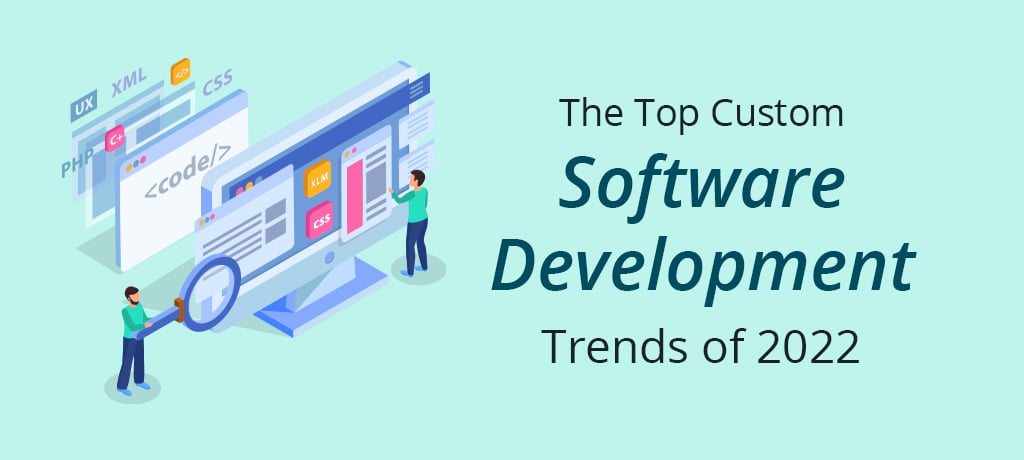 The Top Custom Software Development Trends of 2022
In 2022, developers are bringing new capabilities to the market. Custom software options are revolutionizing the game, and as a result, trends are changing.
The custom software development market is expected to grow by 7.5% year on year. This stat highlights the growing demand for custom business software from companies that recognize its value and its evolving capabilities.
If you want to stay at the forefront of what custom software can do, you need to understand the latest trends. Here are five to keep in mind for the rest of 2022 and beyond.
1. Low-Code Development
Low-code development is a rising star in the world of custom software development. Low-code provides excellent solutions to make custom business software that saves businesses money, time, and labor — making it a top trend for 2022.
A study from this year shows that by 2024, 65% of custom business software will be low-code and no-code developed. The global market forecast for low-code development is expected to reach new heights at $59 billion by 2030.
Low-code software development options like FileMaker are really changing the game. FileMaker boasts a range of great features, including an enormous amount of built-in storage, high-spec security, and compatibility with all devices. It makes expensive high-code options seem unnecessarily time-consuming and expensive.
Using low-code development options like FileMaker helps you save money. You'll experience faster turnaround times while building custom business software, and you won't even have to hire expensive developers to help.
All in all, low-code options offer the perfect solution for businesses that want low-cost results quickly while maintaining lots of practical, quality features.
2. Cross-Platform Capabilities
Businesses of all sizes have a range of competing objectives and requirements. When it comes to IT, businesses need software that works across a variety of platforms and devices, from different operating systems to hardware.
Custom software development platforms like FileMaker host an impressive selection of cross-platform capabilities to realize diverse needs at scale. This includes the ability to work on any device and across platforms.
Remote capabilities are needed now more than ever, with teams working at home and using several platforms to get work done and stay connected. Cross-platform capabilities help these teams promote:
Consistency. Businesses need to know that software will work together seamlessly, offering similar access options across the board – no matter where team members are located.
Connectivity. Software that's isolated to a laptop or desktop is a thing of the past. Modern businesses need to stay connected from anywhere at any time – without worrying about security risks.
Cost-Effectiveness. Save money by reducing the need to constantly re-write code to suit new devices and operating systems.
In summary, cross-platform capabilities make custom software flexible. That's more important in 2022 than it ever has been before.
3. Data Automation
In 2022, an estimated 2.5 quintillion bytes of data are created every day. Most of this data is stored within businesses or is created by companies themselves. As more companies have more data to deal with, they need ways to automate their data management, analysis, and use.
Custom software development solutions ensure data is harvested, stored, and analyzed more effectively. For example, 48% of manufacturing companies use spreadsheets or other manual data entry documents to input data.
That's not a practical solution, especially when dealing with large amounts of data – which is why many manufacturing businesses are adopting custom data automation tools.
Automating your data with solutions like FileMaker increases accuracy and helps build a "data lake" within your organization. This is essentially a repository for data within your business that can be made available to everyone in your organization, boosting collaboration across teams.
The benefits of automation include shortening the response time to current market trends through advanced data analytics. It also eliminates the need for data modeling as the process is automated.
4. Increased Cloud Computing
Needless to say, the COVID-19 pandemic changed how people work. The need to stay at home resulted in the rise of people working remotely. This precipitated the need for more cloud-based solutions so that employees could access the software and services they needed to do their jobs.
According to the Flexera 2021 State of the Cloud Report, COVID-19 increased the usage of cloud computing for 9 out of 10 of the 750 organizations surveyed.
Cloud computing also has benefits. About 94% of businesses reported significant improvements in cybersecurity after moving data into the cloud. Cloud computing is a convenient solution for companies looking to get the most out of new technology.
But what does this have to do with custom software? To many, cloud computing sounds like a solution reserved for enormous corporations with vast resources. The truth is that many smaller and medium-sized enterprises can use the cloud to their advantage.
For example, many companies are linking custom software to the cloud. This makes the data more widely accessible to all employees, but it also expands automated data storage and analysis options.
Currently, 55 million people work remotely full-time in the United States. This has resulted in businesses shifting towards custom software that embraces cloud computing technology, even after the pandemic subsides.
In Summary
Custom software development will only increase in usage, as its ease of use and low cost become enormous benefits in software development.
Custom business software allows companies to build programs that suit their goals and priorities. It's much better than expensive and inflexible off-the-shelf software and comes with a range of handy features at a low price.
Harlow Tech is always at the forefront of the latest custom app trends. In our professional and knowledgeable hands, custom software can dramatically improve the way you handle data. Reach out to our team to learn more today.
Web Manager