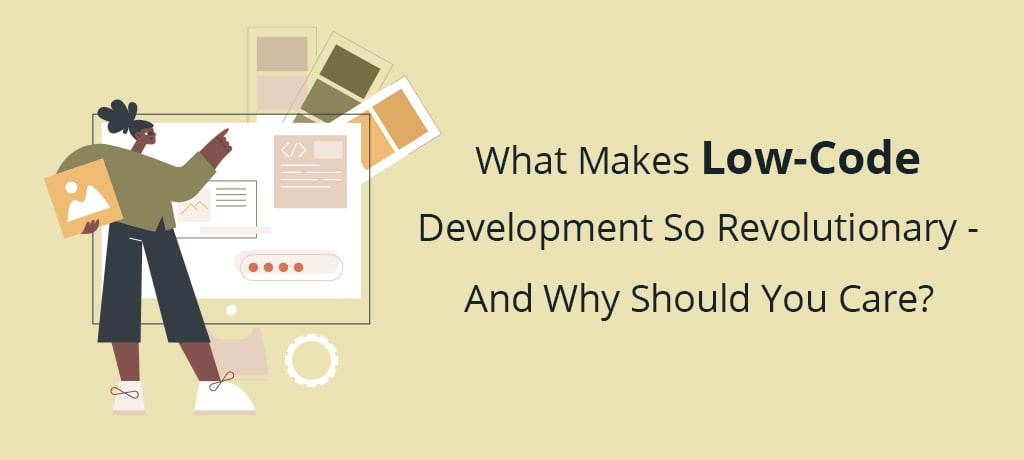 What Makes Low-Code Development So Revolutionary – And Why Should You Care?
Today, more software platforms are featuring low-code development capabilities than ever before. In fact, the adoption of low-code development platforms is growing at a rate of more than 20% per year.
This has been a real game-changer for businesses. They can now create custom applications easily and without breaking the bank.
Low-code tools like Claris FileMaker have made business-specific software more accessible, especially for startups, growing companies, and small teams. Developers with entry-level experience (or even everyday users) can make software that works for their brand.
What does that really mean for small businesses, and why should you care? Read on to find out how your business can capitalize on this low-code development revolution.
Low-Code Is Built to Be Adaptable
The world is always evolving, and businesses need to be flexible if they are going to weather the winds of change. Adaptability can give your business a steady advantage over your competitors.
The most recent example of dramatic change occurred in the wake of COVID-19. People were staying at home, working and shopping online more than ever before. As consumer habits and preferences changed, businesses were left to navigate problems quickly and carefully.
Even now, many organizations are looking to IT solutions to help them address the constant pace of change. According to a study, 84% of businesses have turned to low-code development to solve complex business problems, such as planning and digital asset development.
For example, the low-code platform FileMaker has made it easier for companies to create software applications that solve businesses' problems. It can help develop apps quickly with minimal technical wizardry, making it perfect for businesses that need to adapt to change fast (without wasting time outsourcing to expensive developers).
FileMaker also stores and shares data quickly and securely while running on any device. Accessing your custom application from home (or anywhere) isn't a problem, and that's invaluable in today's on-the-go workforce.
Bridges the IT Skills Gap
There is a shortage of IT management skills in the United States, especially among developers. The US Bureau of Labor Statistics found that the scarcity of software developers in the US would increase to almost 1.2 million unfilled jobs by 2026.
At the same time, the need for developers is expected to grow by 22% from 2020 to 2030. This scarcity makes finding the right staff hard – developers have the upper hand in the labor market.
If you can find an available developer, they'll likely also be expensive. The median pay for a software developer was $52.95 per hour in 2020, and for more experienced developers, that could rise to at least $100 per hour or more. That's a cost most small companies can't easily incur.
Low-code development stands as the key to bridging this divide. Not only does it negate the need for a large staff of developers, but it also comes at a relatively low cost. Businesses can get the flexible, custom solutions they need while wasting less time and money.
Manage More Data Faster
Today, data collection and interpretation are essential elements to consider when making business decisions. Data helps make sense of the environment a company is operating in, underlining successes and failures in a quantifiable way.
The problem is that businesses are often dealing with a lot of data. By the end of 2025, there will likely be 175 zettabytes of data in the world – and even small businesses need the right solution to manage all of this information.
Data comes with responsibility. Data is useless if it isn't analyzed and put to good use in solving actual business problems. It must be organized, updated continuously, and checked for mistakes. It must also be appropriately protected from cybercriminals – especially in today's world of cyber breaches and ransomware attacks.
Low-code development solutions can help manage these responsibilities through data automation. Automating data allows you to collect and store data, as well as easily process and share it. The increased accuracy of low-code development also reduces the likelihood of delays, poor customer service, and compliance risks.
Less Code = Fewer Headaches
The biggest problem with software code? It comes with a shelf-life. Some apps need to be updated as regularly as four times per month to stay safe and up to date, and that can take a toll on your workforce and bottom line.
Most businesses are forced to update their code to maintain usability. Otherwise, an app might not work when a computer gets a system update or a smartphone's OS gets upgraded.
Updating is an expensive process requiring expensive developers who are skilled in the programming language your app is written in. Each update replaces on average 15% of the original code, making updates expensive and lengthy
Code updates don't apply to low-code solutions. Luckily, low-code minimizes the need for help from software developers – they're more intuitive and require less convoluted code, simplifying things immensely.
Ready to Learn More? Contact Harlow Tech
Speak with the professionals. Harlow Tech's job is to help businesses get the most out of their technology. We're here to help your company save money and work more efficiently.
We want you to focus on what's important – running a business and wowing customers. Allow our team to handle the nuts and bolts of your data applications.
The Harlow Technologies team specializes in FileMaker and low-code solutions. Our expertise and knowledge are unrivaled, and our forward-thinking solutions will help launch your custom application in no time.
Speak with a low-code solutions pro today at 1-866 852- 4HTI. You can also contact us online.
Web Manager