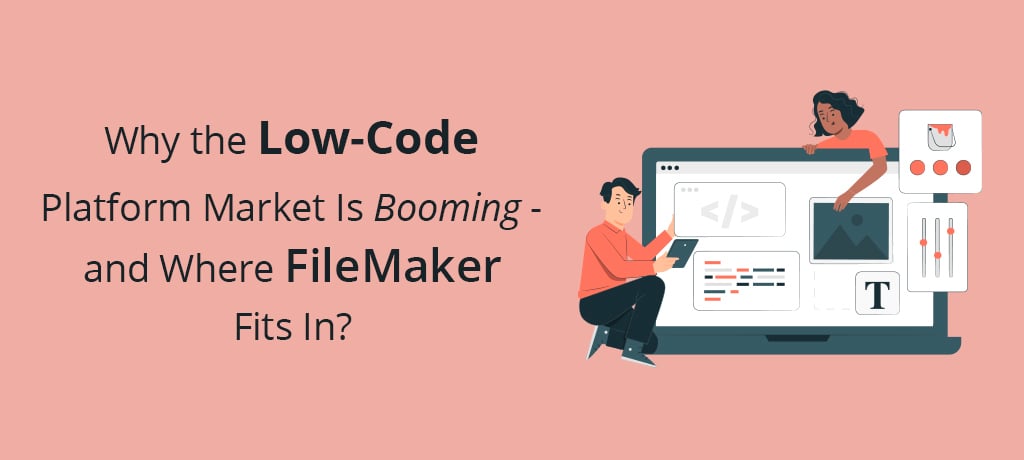 Why the Low-Code Platform Market Is Booming – and Where FileMaker Fits In
The low-code development market is forecasted to grow enormously in the coming years. Its expected market size by 2027 could reach almost $74 million with a compound annual increase rate of 26.5%.
Given this spur in growth, the opportunities presented by low-code development are becoming increasingly visible to small businesses. From task automation to customer data collection, low-code solutions are transforming the way SMBs operate.
Thanks to low-code tools, small businesses can create world-beating apps in stride – without breaking the budget paying for development labor and resources.
One of the best low-code platforms on the market is Claris FileMaker. It makes building apps quick and easy while seamlessly handling data across multiple platforms. We should know – we've used it to craft hundreds of custom business solutions.
So, what makes low-code platforms great? Why is the market booming – and is FileMaker the solution most businesses are looking for? That's what we're talking about today on the Harlow Tech blog.
1. Wide Accessibility
Low-code development platforms offer impressive levels of accessibility – vastly more so than high-code options. Because low-code platforms are relatively new, they have a low barrier to entry for small businesses with limited budgets. In fact, the term 'low-code' was just coined back in 2014.
Custom low-code applications are flexible. They allow users to create software that fits their unique business needs and goals. With low-code platforms, the company has the power to design personalized solutions instead of turning to ill-fitting, off-the-shelf products.
Gone are the days in which custom business applications were reserved for the biggest, most lucrative corporations. Thanks to versatile and affordable solutions like FileMaker, the doors are open wide for small to mid-sized businesses.
2. Low-Code Equates to Low Costs
Businesses big and small are looking to trim excess costs wherever they can – especially in today's economy. Understandably, most SMBs aren't in a position to pay well-trained, experienced developers for high-code projects right now.
Low-code platforms such as FileMaker can help with that. They reduce the labor costs of hiring expensive software developers – who aren't easy (or cheap) to hire. Your business will be able to create more apps in less time with a platform that doesn't require pricey levels of expertise.
Make no mistake: building an app isn't truly "low cost," no matter how you swing it. A simple custom application can cost anywhere from $13,000 to $30,000 and takes an average of five weeks to build. That's a lot of time and skill your company needs to pay for, so the more you can expedite the process and cut costs, the better.
The good news is that a basic FileMaker subscription costs only $19 per month and can be used by less experienced coders with minimal advanced knowledge. Typically, low-code options are more affordable because they require significantly less labor time than traditional app developers and engineering support specialists need for high-code projects.
3. Customer Experiences Come First
About 86% of customers are more likely to pay extra for a great customer experience. Inversely, 95% of users tell others about poor customer experiences they've had.
A positive customer experience is a great way to showcase your high-quality services – and improve your brand's worth in your buyers' eyes. The best low-code platforms help businesses provide more efficient, personalized experiences to customers through better data management and use.
With a low-code solution platform like Claris FileMaker, your brand will be able to meticulously (and automatically) manage and interpret advanced data about your customers. The more you know, and the better you use your data, the more you can appeal to your customers and their expectations.
For example: what if you could build a low-code business application that accounted for customer sentiment online?
The total number of global reviews left online doubled in the year after COVID-19 appeared. Today, customers are in the habit of leaving their opinions about businesses online. This feedback is precious data that can be used to improve your business and the services or products it provides.
At Harlow Technologies, we frequently help businesses prioritize customers' opinions by providing a method for better data collection and interpretation. You don't need some high-code, fantasy platform to ensure you're using your data to keep your customers happy. FileMaker and other low-code solutions can do the trick at a much lower cost.
4. Keep Up With Ever-Changing Expectations
The ability to quickly adapt and evolve is essential for every business. Fortunately, low-code platforms are built for fast maneuvering. When immediate changes are required by customers, governments, and/or industries, low-code apps can come in handy.
Why? Low-code = low in headaches. Changes don't require complex coding, nor do they need engineering support or an in-house development team to make alterations. They can all be done with a platform like FileMaker.
Forget wasting time hiring an in-house developer to make changes or jumping through hoops to meet complicated requirements. With low-code platforms, change is quick and painless.
To Sum It All Up
FileMaker custom applications are soaring in popularity, and the low-code development market is forecasted to grow enormously in the coming years. People are beginning to realize how these low-code solutions can replace high-code, high-cost alternatives.
Low-code options aren't just cheaper – they're faster to produce and require a smaller workforce. When you need to meet a new business objective or workflow requirement, you're in the driver's seat.
Are you ready to learn how a low-code Claris FileMaker solution could help your business? Give us a call at 1-866-852-4HTI or schedule a consultation online. Harlow Technologies is at the forefront of the low-code development wave, and we're ready to show you what you're missing in the best low-code platforms.
Web Manager