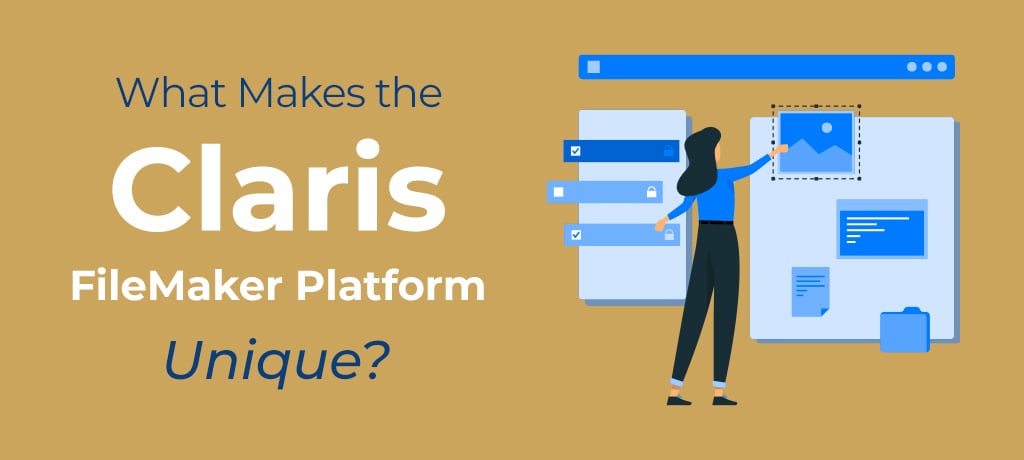 What Makes the Claris FileMaker Platform Unique?
Nowadays, it seems like every competitive brand has its own custom application for streamlining workflows. However, many startups and smaller companies fear they lack the programming and development expertise to create their own – and that holds them back.
That's where Claris FileMaker comes into play. This is a program for creative thinkers. It doesn't require extensive programming knowledge, and it's specifically designed to help brands create fast, easy, and customized business applications.
At Harlow Technologies, we've helped hundreds of clients solve specific problems with custom FileMaker apps. This is truly a versatile, powerful program, and we want to reveal just how it can help your business.
So, to show you just how unique Claris FileMaker Pro is, here are some of the top things it can help your company do – even if your programming knowledge is basically non-existent.
1) Keep Everything in One Application
Using the graphical design tools, relational data modelling and the power of scripts, triggers, calculations, Claris FileMaker gives you a platform for storing all your business data. Imagine building a centralized app for everything, rather than bouncing between half a dozen different storage locations.
Additionally, unlike Excel and other spreadsheet solutions, Claris FileMaker applications don't just store text and simple documents. They can also manage sound files, images, videos, and a wide variety of materials.
Want to pull in from another external app you know and love? Claris Connect allows you to fully integrate other applications into your FileMaker app and workflows. Whether you're working with on-Cloud or on-premise apps, now you can bring everything together in a seamless setup conducive to high productivity.
2) Create Customized Documents
Beyond storing everything in one place, Claris FileMaker can also help you generate customized documents for your team and for clients. This is one of the only programs that gives you the simple option of creating invoices, contracts, and other documents right within your custom application.
Even more importantly, Claris FileMaker's interactive containers allow you to fully use and rely on these in-app documents. Play videos, scroll through PDFs, sign contracts, and more without ever having to rely on another third-party application.
Want to send a customized document to a client or outside partner? FileMaker makes it easy to share documents with others, without having to grant them full access to your application.
3) Experiment With Pre-Built Add-Ons
Claris FileMaker Pro works on a drag-and-drop, built-in template design. Rather than constraining your app's capabilities, this simple setup allows you to easily maximize the power of your custom app.
Instantly add calendars, responsive photo galleries, and other add-ons by dragging and dropping them into your application. FileMaker comes equipped with many JavaScript technology add-ons, so with just a few button clicks, you can personalize your app without help from developers or programmers.
Essentially, Claris FileMaker gives you all of the puzzle pieces you need for a great app, right from the get-go. Then, you have the unique freedom to snap together these add-ons to reach the perfect application setup.
4) Work Efficiently From Anywhere, Anytime
According to a recent study from Owl Labs in 2020, roughly 16 percent of companies around the world are now fully remote. Additionally, about 62 percent of workers (ages 22 to 65) now claim that they work remotely at least sometimes, if not frequently.
We all know that the "classic," in-person office setup is changing. People need to be able to work with their apps from wherever and whenever they need to – and Claris FileMaker Go makes that possible.
FileMaker Go allows your team to deploy powerful applications on desktops, mobile devices, and on the web. This makes it easy for your team members and partners to safely access your data and app features while on the go. Tailor the program's options to meet the exact options of your remote workers, wherever they might be.
Furthermore, you can also integrate NFC reading materials in your custom FileMaker app. This helps you work with tagged merchandise and navigate/store information in your databases.
If you create an iOS app, you can also optimize it for hands-free capabilities by integrating it with Siri and other voice interaction technologies. Add data, automate tasks, search for records, or even start new projects, all via voice technology.
5) Easily Share Your App With Partners
Another unique aspect of Claris FileMaker? It makes it extremely easy to share your apps with outside users such as clients, partners, or vendors.
Support for FileMaker Web Direct gives users the full experience of the program (and your custom business application) in a straightforward browser format. The innovative web technology runs custom FileMaker apps directly in a user's chosen web browser – no extra programming or installation needed.
This means that anyone with a compatible web browser and internet access can access your application online to view, edit, sort, or use records.
6) Use Artificial Intelligence to Make Decisions
Lastly, the FileMaker program can use machine learning to improve data recording, storage, and decision-making. Considering that an estimated 65 percent of companies plan to adopt machine learning to make better business decisions, this is a highly sought-after benefit.
Your business will have the chance to use smart technologies for image and sentiment recognition, as well as to create your own models and store/retrieve data in new ways.
For example, if you use FileMaker Go on a mobile device, you can simply snap a photo of an object. The app will then automatically recognize it and file the data away appropriately – and that's just the tip of the iceberg when it comes to your app's capabilities.
Learn More About FileMaker Solutions Today
At the end of the day, you want to create an app that's unique to your business, and FileMaker can help you do that. Streamline your manual processes, reduce costs, and become more efficient while relying on modern technologies via an easy-to-use platform.
To learn more about what we've discussed today, check out this helpful video from Claris:
The Harlow Technologies team has overseen more than 750 FileMaker Pro projects over the past 25 years of business. As Certified Claris FileMaker Pro developers, we've witnessed exactly what the program can do for businesses – and we'll show you how a custom app could revolutionize your company.
To schedule a consultation and share your brand's unique needs, give us a call at 866-852-4HTI. You can also send us a message online. We look forward to revealing just how Claris FileMaker could streamline and improve your workflows.
Web Manager