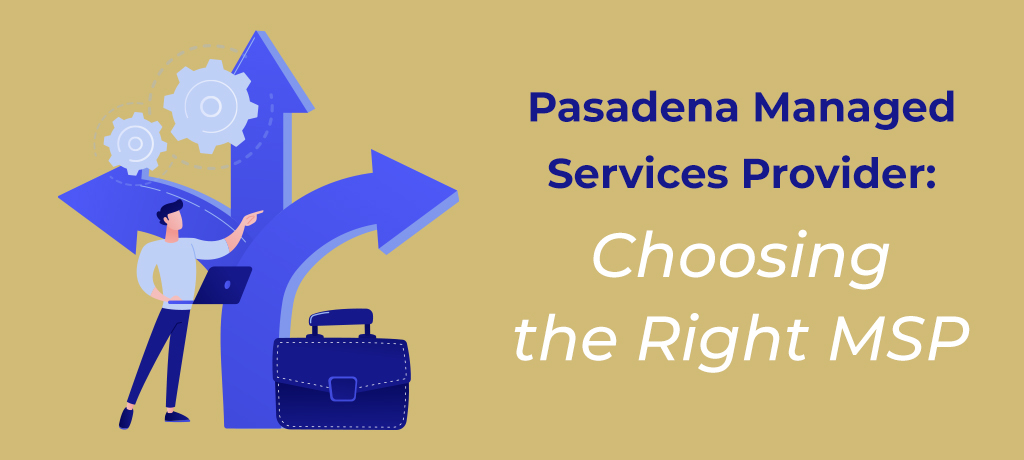 Pasadena MSP: Choosing the Right Managed Services Provider in Pasadena
Advancements in information technology (IT) can significantly impact a business's productivity and overall success. If managed well, an IT infrastructure will enable a company to accomplish its daily operations more efficiently and provide a competitive advantage.
However, IT is a rapidly changing field that requires constant upkeep. Many small to mid-sized business owners cannot allocate the time and resources to maintain their IT infrastructure internally – especially while overseeing day-to-day operations.
A managed IT services company will maintain, protect, and improve your IT systems remotely. This allows businesses to remain focused on their core operations rather than worrying about the safety and integrity of their technology.
There are plenty of businesses in Pasadena, California, that could benefit from partnering with a local MSP. Pasadena hosts many up-and-coming businesses. To keep up, these companies need a Pasadena MSP that will allow them to utilize their technology to the fullest potential.
Are you interested in partnering with a Pasadena MSP? Here is everything you should know when looking for a managed services provider in Pasadena, California.
What is an MSP?
Before signing a partnership, it's essential to have a clear understanding of what an MSP does.
A managed services provider is a third-party company that remotely connects your business to a team of expert IT technicians. Your team of remote IT professionals will analyze your IT infrastructure and provide IT solutions that improve inefficiencies and help foster long-term success and growth.
A Pasadena MSP like ours will:
Implement better IT solutions

Respond quickly to your IT concerns

Improve your cybersecurity posture

Minimize operational downtime

Develop a service plan that fits your business needs & budget
Ultimately, a Pasadena MSP will act as a remote IT department for your business while keeping your budget and security measures under control.
Top Benefits of Partnering with Pasadena MSP
Let's discuss some of the benefits a Pasadena MSP can offer your business.
1. Improved IT Security
Many small to mid-size business owners assume that they are too small to be a target of cybercrime. That's simply not true. No company is immune to security breaches – especially if they lack proper IT security measures.
Just one cyber attack can cost your business thousands of dollars in reparations and compromise your reputation among customers, vendors, and partners. As a result of these effects, roughly 60 percent of small to mid-sized companies go out of business within six months of a cyberattack.
If you don't want to wind up in that position, it's time to start preparing for the worst-case scenario with the help of skilled security experts.
A Pasadena MSP will minimize these IT risks for your business by implementing advanced multi-level network security solutions to discourage unauthorized users from disrupting your business.
A quality Pasadena MSP will also continuously monitor your network, run frequent penetration tests, and update your IT security regularly. This helps to keep your company safe from the ever-evolving tactics and schemes of cybercriminals.  
2. IT Consulting and Expert Advice
A Pasadena MSP can also benefit your business through IT consulting services. Your company will meet regularly with a team of dedicated IT experts (consultants) who will help strategize a plan to improve your company's IT infrastructure.
Your IT consultants will analyze your current IT systems for any inefficiencies and recommend solutions to correct them. These solutions can be anything from upgrading software to installing new equipment or automating repeatable tasks.
As part of the services provided, consultants will also train your team to best use the systems at their disposal. This training will help your employees utilize their time efficiently when using technology tools.
3. Peace of Mind
Lastly, but perhaps most importantly, an outsourced IT support company can offer your team peace of mind knowing that your IT infrastructure is in good hands.
When you partner with a great Pasadena MSP, you won't need to worry about your IT system crashing, updating your security software, or anything IT-related.
Instead, you sleep easy knowing a dedicated IT team is actively working to keep your business's IT systems fully optimized and secure around the clock. This leaves you with more time to focus on growing and improving other elements within your brand.
Qualities in a Pasadena MSP
Not all Pasadena MSPs are equal, and some are more equipped to serve your business than others. That's why it's important to do thorough research before partnering with a local managed services provider.
Here are a few qualities to look out for when choosing a Pasadena MSP:
A Proactive Approach to IT
First, the Pasadena MSP you partner with should actively work to prevent IT problems from occurring to your company, rather than simply fix them as they arise.
A Pasadena MSP that takes a proactive approach to IT management will ensure your systems are up to date and monitor your network around the clock for any potential threats. If a proactive Pasadena MSP notices an IT threat in the making, they will resolve the issue before any significant damage can happen to your business.
Additionally, a proactive Pasadena MSP will work with your company to adjust your network security following an attempted cyberattack or system failure. This ensures that the same problem doesn't occur again in the future.
Knowledge in Your Industry
An MSP shouldn't provide the exact same solutions for all businesses. Instead, they should tailor their services to meet the specific needs of your industry.
 A Pasadena MSP that has experience serving businesses within your industry will be able to solve problems and recommend solutions to improve your company's performance. They won't just meet your basic IT needs – they'll have a thorough understanding of your business model and work to improve upon it.
A Proven Track Record of Success
Finally, the MSP you choose to partner with should have a history of success with other clients.
A credible Pasadena MSP will be happy to provide you with references and case study examples of completed IT projects. This will help you understand the results they can provide.
It's also a good idea to look at an MSP's reviews and customer testimonials to discover how their services have helped other businesses. If they are hesitant to provide you with evidence of their past successes, consider this a red flag.
In Conclusion
Hopefully, this article has helped you understand what managed services providers are and how they can seriously improve your business's current IT setup.
The right Pasadena MSP can significantly impact your company's bottom line and transform the way you protect your information. A great provider will increase your business capabilities, keep you up and running, and foster opportunities for growth.
How can a local MSP benefit your Pasadena-based business? Let's find out together. 
Web Manager