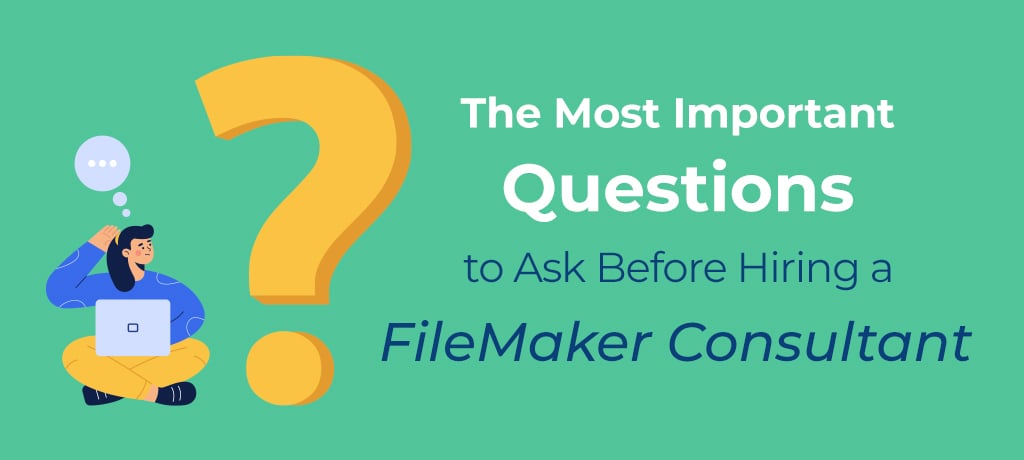 The Most Important Questions to Ask Before Hiring a FileMaker Consultant
Whether you're adding features or building an entirely new application for your business, FileMaker software is a powerful tool. However, many organizations lack the time and expertise to properly learn and use the program for their own purposes.
If you're in this position, you're likely considering hiring a FileMaker consultant. This is a great way to access FileMaker skills without forcing your current employees to waste time they already don't have. 
Still, that doesn't mean every FileMaker consultant is a great asset. FileMaker might be the world's leading workplace innovation platform, but not every "expert" out there is a good fit for your organization.
As experienced custom application development professionals, we know what it takes to be a "quality" FileMaker consultant. To help you save time and money, we've compiled a list of the most important questions to ask when interviewing FileMaker consultants.
These queries will help you distinguish between quality partners and inexperienced performers.  When you hire a FileMaker consultant, you want to know that you can trust them to give your brand exactly what it needs – without wasting your time or money.
1. Are You Actually a FileMaker Certified Developer?
The first thing you need to learn is if the consultant is a certified FileMaker developer – the keyword being "certified."
A FileMaker developer that's certified will have achieved platform expertise and have years of FileMaker-related work under their belt. Additionally, they will have gone through the formal certification program offered by FileMaker.
This means they are well-versed in:
FileMaker's best practices

Technical specifications

Database schemas

Advanced scripts

Data publication and integration

System security

And more
Asking for certification is a smart way to ensure you're hiring a FileMaker consultant/consulting team with real technical knowledge. To be certified, they have to pass the "Developer Essentials for FileMaker" exam, and that speaks volumes about their experience with FileMaker development.
As when you hire any FileMaker consultant, you want to know that the professional has an in-depth working knowledge of their particular field. If the candidate can't boast any certifications relevant to FileMaker development, that's a bad sign.
We don't want to toot our horn too much, but Harlow Technologies is a Certified Claris FileMaker Pro development company. We're actually experienced in custom app development and FileMaker as a whole, and we can also offer you special deals and discounts on the latest FileMaker software.
2. Are You a Part of the Claris Partner Program?
If you haven't heard of this program before, it's essentially a support group for the many companies/consultants that work within the FileMaker community.
Although general members don't need to take a test to be a part of the program, there are top tier members (like Harlow Technologies) that have access to special sales opportunities and promotional materials.
You don't necessarily need to hire a FileMaker consultant that is a part of this program, but we highly recommend evaluating candidates that are a part of the community. This increases your chances of accessing better prices, products, and services.
3. What experience do you have integrating FileMaker applications with other applications?
FileMaker applications can connect to and integrate with many other technologies – that's one of its biggest benefits. Even if integration isn't at the top of your to-do list now, you'll want to work with a FileMaker consultant that has the skills to help with that later on – just in case.
Look for a FileMaker consultant that is comfortable working with many kinds of technologies such as JavaScript, JSON, PHP, XML, XSLT, REST APIs and ODBC/JDBC , as well as .csv, .tab, .dbf, .xls and .xlsx files. If you wind up working with a consulting team that only knows FileMaker, future integrations could be a real pain.
When you ask this question, you might also want to inquire about the FileMaker consultant's experience with plugins such as QuickBooks®, Microsoft® Outlook®, SMS (texting) systems, and any others that are relevant to your industry/services.
At Harlow Technologies, we're adamant about exploring all of the integration options available to our clients. We work hard to cultivate experience with many technologies, and when we partner with a brand, we facilitate countless seamless connections on their behalf.
4. Do You Work Alone or With Other FileMaker Consultants?
Lastly, find out if the FileMaker consultant works individually or as a part of a larger organization. There's not really a right or wrong answer to this one, but it is important to evaluate the situation.
Independent FileMaker consultants/developers are typically a little more affordable. Many of them work from home, and they have minimal overhead costs, which lowers your overall expenses. However, their independence also means they don't have a team to rely on, which can translate to slower response times if they're juggling several clients.
On the flip side, a team of FileMaker consultants might come with a higher price tag, but they also offer:
Extensive support and quick responses

More varied expertise and knowledge
Broader availability
If you're not sure which of these setups seems like the best fit for you, explore both options. Ask about specific projects and services, and see which kind of FileMaker consultant offers a better situation for your requirements.
We might be a little biased, but as a consulting company, we see immense value in working with a group of experts, all dedicated to your FileMaker needs. Harlow Technologies' size and collaborative teams allow us to provide service to our clients exactly when they need it, and that's important.
Send Your Other Questions to the Harlow Technologies Team
We've been working with FileMaker and custom application development clients for years. We've seen it all, and we're happy to answer any questions you may have about consulting, web services, development, and more.
If you want to see if Harlow Technologies consulting services are a good fit for you, schedule a free consultation with our team. In less than 30 minutes, we'll be able to tell you exactly what you need and how our FileMaker development tools can help.
Call (866) 852-4484 or send us a message online today. We look forward to the chance to be involved in your FileMaker development journey.
Web Manager