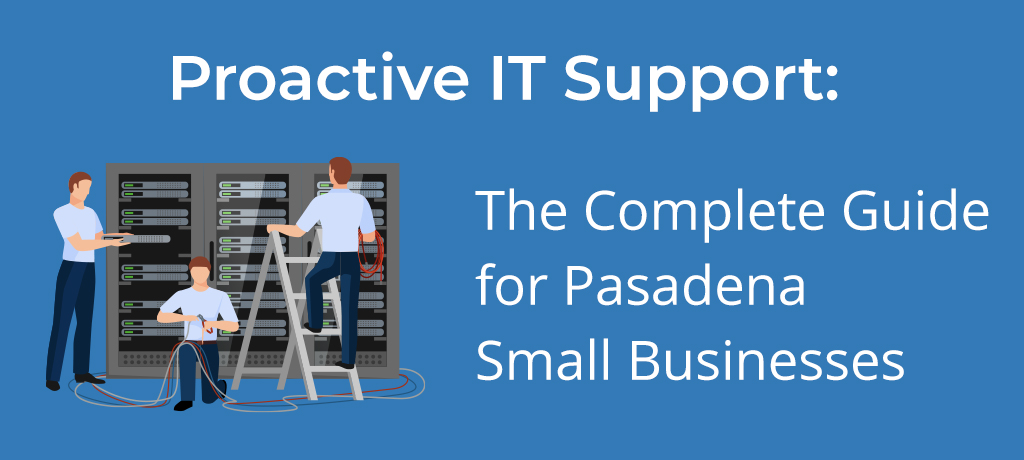 Proactive Pasadena IT Support – The Complete Guide for Pasadena Small Businesses
It doesn't matter if you only have a few employees or if you're in charge of a growing multinational corporation – information technology (IT) is the lifeline of your operations. Technology enables you to store data, communicate with clients, and stay ahead of the competition.
However, maintaining your IT infrastructure is not as simple as flipping a switch and hoping everything works.
IT systems are complex and require constant monitoring and upgrades for uninterrupted performance. This can be a daunting task for small business owners to oversee on their own, especially while juggling other responsibilities of running a company.
That's where outsourcing with a proactive Pasadena IT support company can help.
A proactive Pasadena IT support company will take care of all IT needs that you don't have the time or resources to handle – before you ever run into problems. They will ensure your IT systems are fully functional and are constantly equipped to meet the demands of your growing company.
Rather than reacting to issues as they arise, a proactive team will anticipate and prepare for problems so that they don't affect your operations. With that kind of support in your corner, you can focus more on growing your business instead of worrying about downtime and hiccups.
There are plenty of small businesses in Pasadena, California, that could benefit from partnering with a proactive IT support company. Pasadena, which was recently ranked as one of the most business-friendly cities in the United States, is home to a growing number of start-up companies.
For small businesses in this area to stay ahead of the competition, reliable Pasadena IT support is a must. IT is changing, and so are the threats that can affect your data and systems. You need a proactive team that will anticipate upcoming problems and prevent them from happening.
Do you need help understanding, protecting, and advancing your IT infrastructure? Here is everything you need to know about proactive IT support in Pasadena, CA.
What is Proactive IT Support?
Before selecting a provider, you need to have a clear understanding of proactive IT support as a service offering.
A proactive IT support company provides your business with expert technicians who are dedicated to maintaining, protecting, and improving your business technology. These IT experts focus on monitoring and strengthening your IT system – rather than just fixing it when something breaks.
This helps minimize disruptions and cyberattacks. Considering that an attack happens roughly every 39 seconds, it's more important than ever to prepare for the dangers ahead of time, rather than simply planning to handle them when they happen.
A proactive IT support company likes ours will provide your business with:
Better IT solutions
Customized service plans
Advanced cybersecurity protocols
Continuous network monitoring
In short, a proactive IT support company will help keep your IT system up and running at peak performance levels – for a fraction of the cost of internal support.
The Benefits of Outsourced IT Support in Pasadena, CA
Now, let's look at some of the benefits a great Pasadena IT provider can offer your small business.
1) Advanced Network Security
As cyberattacks become more sophisticated and widespread, IT systems are becoming increasingly vulnerable to outside intrusions. Security threats don't just endanger your IT network – they also put the personal information of your customers and employees at risk.
A proactive IT support company in Pasadena will implement multilevel network security measures to minimize the risk of hackers and other malicious attacks. They will also continuously monitor your network for vulnerabilities and patch them before cybercriminals have a chance to exploit your IT weaknesses.
2) Solutions to Workplace Inefficiencies
Technology is constantly evolving, and it can be challenging to keep up with the latest IT trends, let alone afford the new equipment.
However, if your IT infrastructure is outdated, you may be wasting time with inefficient processes that harm productivity and growth. Using an old technology setup is a lot like using a bike instead of a car – it'll get you there, but at what cost in terms of time, energy, and efficiency?
Proactive IT specialists will work to identify any gaps in your IT infrastructure and find the most cost-effective solutions to improve productivity across all your business's operations. A quality IT company will not offer your business any unnecessary solutions – only ones that will improve systems and security.
A proactive IT support provider in Pasadena makes technology solutions that may otherwise be cost-prohibitive for small businesses affordable through discounted pricing and flexible financing plans. In addition, they will install new IT equipment on your behalf and offer training to your employees.
3) Peace of Mind
Lastly, a Pasadena IT support company will offer you and your team peace of mind. Technical issues are among the most common sources of workplace frustrations, and proactive IT specialists work tirelessly to eliminate them before they can give you and your team headaches.
With a quality Pasadena IT support company, you can enjoy IT systems that work seamlessly to improve communication and productivity. In addition, knowing that a reliable team is monitoring your IT systems will give you and your team a sense of relief and confidence.
In short, a proactive IT provider allows you to remain focused on growing your business while your technology is actively supported every step of the way.
3 Important Services to Look for in Proactive IT Support
Proactive IT support can benefit your small business in many ways, but what are the most important services to look for from an IT support provider? Here are three we think are incredibly important.
Help Desk Services
If your business experiences a cyberattack or system failure,  you will need to tackle the issue as quickly as possible. Otherwise, it may worsen and lead to serious financial loss.
With a Pasadena IT support help desk, your business will be able to report technical issues to a team of experts who work quickly to fix the problem. They will also adjust your IT system to reduce the chances of the same issue occurring in the future – that's the benefit of being proactive.
Quick Response Times
Just because an IT provider offers a remote helpdesk where you can reach out for IT help doesn't mean they will respond quickly to your requests. Most Pasadena IT support companies can guarantee quick response times because they are in the same time zone and service fewer clients than national providers.
Proactive IT companies may even identify IT issues before they interfere with your business and take the necessary steps to prevent them.
Data Backup Plans
Data loss can be devastating for a business. Cybercriminals and natural disasters (such as fires and floods) pose a real threat to IT systems and can make your data inaccessible – especially if it's not backed up to a secondary location.
A proactive IT support company can help establish a backup system to ensure no data is lost in the event of an emergency. Your data will be automatically backed up to an offsite location, such as the Cloud. This allows you to restore your data and recover it immediately after a cyberattack or natural disaster.
Qualities to  Look for in a Pasadena IT Support Company?
Not all outsourced IT companies are the same, both in terms of services and quality. So, what should you look for to ensure that your Pasadena IT support provider is a good fit for your budget, goals, and business?
Here are some qualities to consider:
Industry Experience
Technology needs differ from business to business. Although any IT company can learn an industry, it takes time. In addition, some industries require specific data and security certifications before an outsourced IT company can work with a business.
As a result, IT support companies that have experience servicing businesses in your same industry will be able to provide your business with effective solutions immediately.
Dedication to Customer Service
The best IT support companies are those that prioritize customer service. They should take the time to listen to your IT needs before developing a support plan.
They will make solutions easy to understand, walking you through the details as many times as necessary and providing adequate training. Your proactive IT company should also ensure that every member of your business feels comfortable reaching out to them for help.
Proven Track Record
One way to tell if an IT company is reliable is by looking over their reviews and testimonials. IT companies that have been around for years generally provide IT support as promised. If many past clients are satisfied, you'll feel more confident that you're choosing a worthwhile, trusted provider.
In Conclusion
As you can see, there are plenty of great reasons for small business owners to partner with a proactive IT support company. A great provider won't just keep your IT secure and running smoothly – they'll also equip you with the solutions needed to achieve long-term success.
What can proactive IT support do for your Pasadena business? Let's find out together.
Web Manager