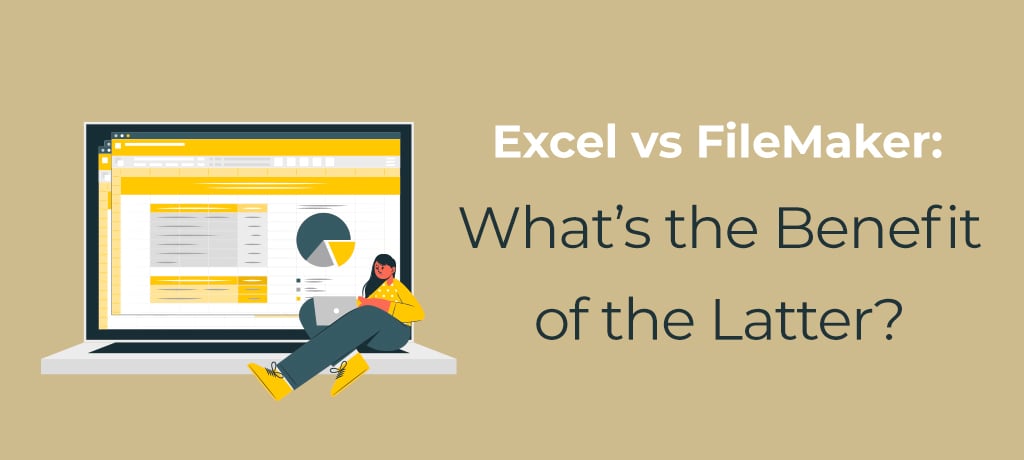 Excel vs FileMaker: What's the Benefit of the Latter?
When you think of organizing your business's data, you likely think of one program first: Excel.
Ever since the 1980s, Microsoft Excel has been practically synonymous with business reporting and data tracking. If you run your own company, chances are, you have numerous (if not hundreds) of spreadsheets floating around to keep track of things.
However, Excel isn't the end-all-be-all of business data organization. Sure, it's an excellent program for crunching numbers, but it's not the only information management solution you need.
If you're only using Excel to create a vast web of sheets, things likely fall through the cracks sometimes. Additionally, you store information, but what do you use it for? Are you truly optimizing for better performance, growth, and planning in the future?
That's why we want to talk about Claris FileMaker, the cooler "cousin" of Excel with more than 24 million copies around the world. Think of it as the other side of the data management coin – the one that actually helps you avoid cumbersome management tasks and makes data actually usable.
In this post, we're talking about the difference between Claris FileMaker and Excel, as well as some of the extremely valuable features that FileMaker offers.
What Is FileMaker and How Is it Different?
Despite what you may have heard, FileMaker is not just a glorified Excel program. Not only is it easier and more user-friendly than Excel in many ways, but it also produces more specific, useful reports for business planning.
FileMaker Pro is an application-building tool that allows you (or hired IT service providers) to quickly and easily build systems for seamless data management and organization. Whether you need an application to publish surveys or collect consumer information, FileMaker can help you create it.
Excel is great for inputting data and making calculations, but FileMaker can be used to produce apps for:
Inventory tracking

Contact organization
Task management
Content production
And more
In short, Excel spreadsheets are great for storing, analyzing, and reporting on data. FileMaker databases, on the other hand, take things to the next level by creating and publishing customized forms/reports, optimizing for different view types, and building important relationships between data sets.
The best part is that users can import data from Excel directly to FileMaker. This is especially useful for small businesses that need a more branded, personalized software solution but that don't have lots of money lying around for pricey tech upgrades.
FileMaker is excellent for SMBs that need something user-friendly and quick. Dump the numbers into Excel, import them to Claris FileMaker, and let the program tackle to-dos faster than any spreadsheet before.
What FileMaker Does (That Excel Can't)
We bet there are people reading this article, protesting and arguing the benefits of using Excel. After all, the program is used by 750+ million people around the world.
We don't mean to offend – there are any useful elements of using Excel. However, can Microsoft Excel easily allow you to:
Build intelligent, relational lists that are intuitively connected?

Generate customized reports just for your business?

Provide real-time access for up to 250 people simultaneously?

Facilitate same-time collaboration between Macs, Windows, and mobile devices?
The answer is no, Excel cannot do all those things the way that FileMaker can. By combining FileMaker with your use of Excel, you can ensure your data is highly secured, intelligently optimized, and effortless to maintain.
Fortunately, transforming your Excel spreadsheet info into FileMaker solutions is simple. Just drag and drop the spreadsheets directly into the FileMaker conversion icon, then let the software do the rest.
You can also map Excel columns to FileMaker fields, then pick and choose the columns you want to bring over. When you're done, simply convert and instantly enjoy a customizable app rather than a mundane, run-of-the-mill spreadsheet.
Countless Ways to View Your Data
Perhaps the biggest advantage of Claris FileMaker over Excel is the ability to view your data in many ways. There are forms for viewing and editing one record at a time, as well as forms of "easy finds" within streams of data.
When you're working with multiple records at one time, you can view them in a "list" style, as well as create custom views of your data via layouts. Create them for desktops, touch devices, or printing.
With Claris FileMaker, there's no limit to the number of different reports you can create and use. Keep in mind that you aren't the only one who can generate reports – you can also pass the reins over to your team and let them create various view styles as they need them.
Customized layouts don't just make things look nice – they help you understand more from your data by grouping everything in meaningful ways. If you want, you can even have FileMaker "summarize" data for you so that you can use it, not just store it indefinitely.
Match Your Brand Identity
Excel isn't really about "branding" or company identity, but FileMaker allows you to customize layouts to match your brand colors, personality, and needs. Additionally, it provides many opportunities for automation, which cuts down on unnecessary steps. 
You'll feel like a regular designer, dragging and dropping layout tools to help you work like a pro. Just move items around to create a beautiful report within minutes.
Build Relationships Between Your Data Sets
Like we said earlier: FileMaker helps you use your data rather than just store it. One way it does that is by crafting intuitive relationships between sets of data.
Once you have relationships, you can view them in different contexts within the customized app. Navigate between related data sets and perform calculations in just minutes.
The relational database design supports many different types of relationships between tables.  Not only does this prevent the entry of inconsistent data and enforce referential integrity, but it also makes things easier to understand.
FileMaker Pro supports:
One-to-many relationships (the most common)

One-to-one-relationships (usually combined into one table)

Many-to-many relationships (with one or more rows in different tables)
Learn More About Claris FileMaker
Trying to highlight all of FileMaker's benefits over Excel in just one blog post is arguably impossible. Still, we can say this: FileMaker is a highly trusted database management software, and it has been for over 30 years.
This isn't some passing fad, but a gem of a data solution that can transform the way you track information. It's ideal for organizing information, creating databases, and managing info, from Excel and beyond.
If you have further questions about FileMaker (and we'd be surprised if you didn't), don't hesitate to reach out to our expert IT support team at Harlow Tech. You can also view this informative video directly from Claris. 
We've been offering FileMaker consulting services for decades and are a certified Claris FileMaker Partner. No matter what you need from a custom application, we'll help you achieve the perfect setup. Call 866-852-4HTI or send us a message online today.
Web Manager