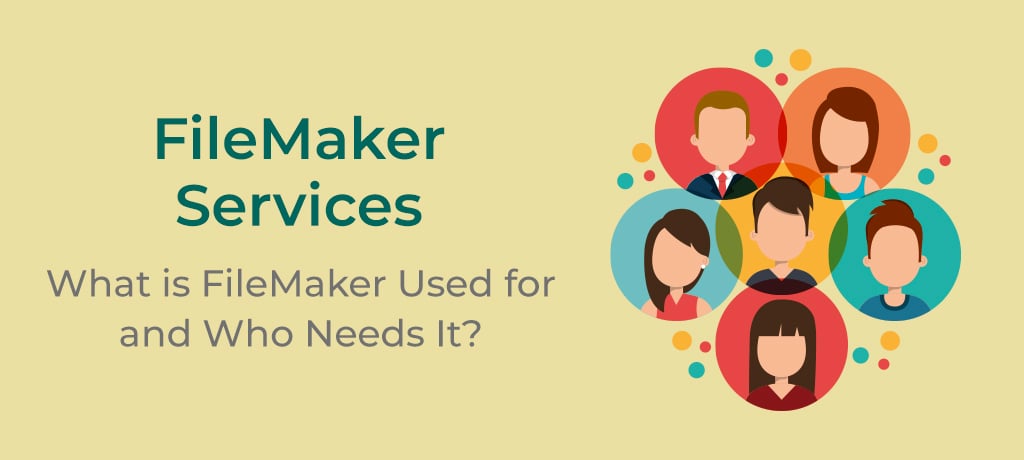 FileMaker Services: What Is FileMaker Used For and Who Needs It?
If you're still working with rudimentary forms and tedious spreadsheets, there's a better way.
Claris FileMaker Pro is a platform that makes it easier to store, manage, and use the information you care about, all in a central location. Our Harlow Technologies team has used the technology to build a variety of tools – databases, CRMs, ERPs, etc.
This is a powerful solution for businesses that need to create reports more efficiently and streamline their workflows. If that sounds like you, then it's worth learning more about this intuitive data platform.
Let's take a more detailed look at what Claris FileMaker is and who it can benefit.
What Is FileMaker?
FileMaker Pro is a cross-platform, low-code database application. You'll often see it marketed as a "rapid application development" (RAD) software development tool. The platform can export and import data, then use that information to build a custom software application – with the help of FileMaker experts.
The graphical user interface allows teams to easily search, filter, and sort data sets. Additionally, each file within a FileMaker Pro database has the ability to hold multiple:
Fields
Menu sets
Layouts
Tables
Scripts
Functions
Logical relationships
Calculations
Embedded multimedia
Think of the FileMaker platform as a go-to development tool. You can customize the applications that store your data – you determine everything about its accessibility, from users to locations and web browsers. The system even has built-in functions that allow users to access data from all types of phones, tablets, and computers.
Another bonus: the FileMaker platform can integrate with common web technologies such as HTML, XML, JavaScript, and PHP. This allows your team to streamline work like never before, increasing efficiency while saving time and money.
What Is FileMaker Pro Used For?
FileMaker is used for a variety of purposes – but here are some of the most common ones.
Generating automated reports and exporting them as PDF and Excel files
Sharing online data quickly (without the need to export)
Creating surveys, forms, and registration pages
Customizing database files
Modifying ready-made templates
Accessing data securely from anywhere
Creating, renaming, deleting, and reading natively stored files
Logging scripts that run on specific databases
Scanning log files for errors
Assigning specific roles to individuals with different access privileges
In short, FileMaker Pro is used for collecting, sorting, and analyzing data – then putting it to good use for your team.
The Benefits of the FileMaker Platform
We've talked about the uses of FileMaker – but what are the benefits? Why use this instead of achieving the same goals with Excel, Google Sheets, or other platforms?
Well, the FileMaker Platform gives your team access to a custom software solution that allows for improvement in:
File-sharing
Business planning and reporting
Accounting
Contact management
Lead management
Project management
The benefits don't stop there. With FileMaker Pro, your organization can also reap the rewards of…
1) Flexible Use on Any Device
FileMaker solutions can operate on any device – Mac or PC. As a web-based platform, it's accessible from virtually any device. Its cross-platform possibilities make it easy for teammates to collaborate from anywhere with their own devices, whether it be a smartphone, laptop, or desktop computer.
2) A Truly Intuitive Interface
FileMaker offers a powerful dashboard with the ability to customize user interfaces. This leads to a superb user experience – one that allows your team to tackle its responsibilities with speed and efficiency. When you work with FileMaker professionals, they'll ensure your interface is specifically built around your daily tasks and objectives.
3) Data You Can Access From Anywhere
We live in a different world than we did 10 years ago. Remote work and flexible office spaces are increasing in popularity – up to two-thirds of white-collar employees worked from home either exclusively or part of the time in parts of 2021. As a result, companies need data solutions that are available whenever and wherever their employees need them. FileMaker can provide that – even without a consistent network connection.
4) Quick Development
Most businesses are used to receiving quotes for custom software development that involve months of work. FileMaker tends to exceed expectations by shortening that timeline substantially. In mere weeks, FileMaker Pro developers (like ours) can cultivate the exact application your team needs to succeed.
Who Is Using FileMaker?
Now, we get to the part where we talk about who benefits from using FileMaker. The best way to do that is to look at the industries and customers who are already using the platform to revolutionize their work.
When looking at reports from various FileMaker experts, we find that these industries make up the largest segments of users:
Computer Software
Education Management
Higher Education
Furthermore, it seems that almost half of all FileMaker users are small companies with less than 50 employees. In general, FileMaker is an excellent solution for SMBs because it is quick, relatively affordable, and completely customizable.
Our team at Harlow Technologies has worked with hundreds of clients – mostly small businesses – that face unique challenges. With our FileMaker expertise, we were able to immensely improve these clients' data tracking and storage capabilities.
See How Claris FileMaker Could Benefit You
FileMaker solutions are built around your needs. As a Certified FileMaker Pro development company, our goal is to help you explore the possibilities this platform can offer. We've completed hundreds of FileMaker projects, and we know exactly how to tailor the platform to meet your challenges and preferences.
Are you ready to learn how Claris FileMaker could change your workflow? Give Harlow Technologies a call at 1-866-852-4HTI or schedule a consultation with us online. We're here to provide expert guidance and get the ball rolling on your new tech solutions.
Web Manager