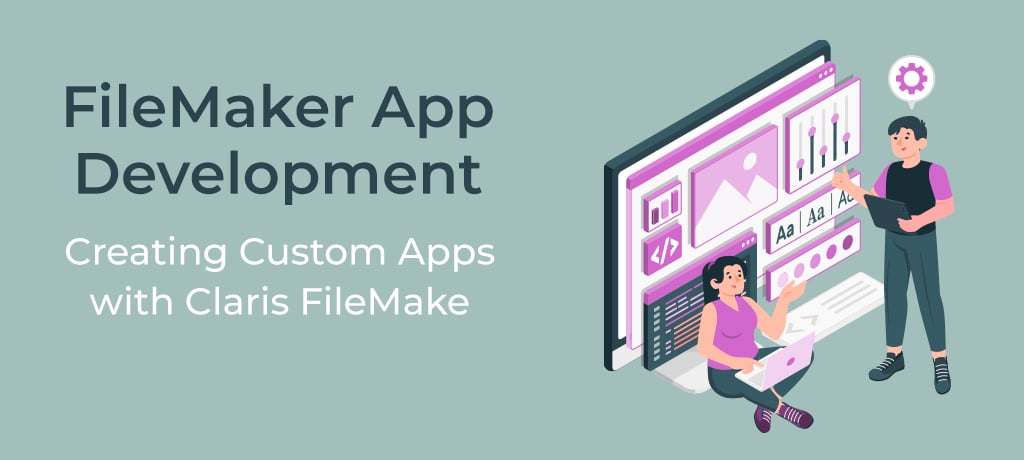 FileMaker App Development – Creating Custom Apps with Claris FileMaker
Meet Claris FileMaker – the custom app development platform that makes it easier than ever to meet your business's unique needs.
Over the years, Harlow Technologies has helped hundreds of companies create custom applications quickly and efficiently. Our expertise in FileMaker Pro has given us the capabilities to create exactly what your team is looking for, without charging an arm and a leg.
But what exactly is FileMaker app development? Why would you need a custom application?
Those are the two big questions we're tackling in today's blog post. Keep reading to learn if your business could benefit from a custom app created with Claris FileMaker.
About FileMaker Pro – What Is It?
We'll start by examining this low-code database application. FileMaker is a cross-platform software often marketed as a "rapid application development" (RAD) tool. It surpasses Microsoft Excel by leaps and bounds in its ability to export, import, and store data.
With FileMaker Pro's great user interface, teams can easily search, filter, and sort their data sets. They can also customize the applications that store their data, tweaking accessibility and permissions as necessary. This means that teams can access their data from any device, anywhere, without jeopardizing its safety.
The FileMaker platform can integrate with common web technologies such as HTML, XML, JavaScript, and PHP. This brings us to its key benefit: its customizability.
What Is Custom Software and How Does It Help?
FileMaker Pro's features will only pique your interest if you understand why custom applications could prove crucial to your business.
In the simplest of explanations, custom software is uniquely designed and created to perform specific tasks for your business. Unlike off-the-shelf applications, custom apps are molded to fit your specific expectations and requirements.
When you work with a team of FileMaker experts, like ours, we can quickly create an app to meet your needs. Some companies do fine with standard, non-custom solutions, but that's not always the best way to streamline your workflow. We can help you meet your requirements with expert precision.
When Do Companies Need to Design Custom Applications?
Typically, businesses realize they need a custom application when they just can't find what they need in the software market. If you've been unsuccessful in your hunt for a digital solution, your best option may be to design the application yourself – and FileMaker Pro can help with that.
Another your business might want a custom application? You can market or license the product. Using a turnkey solution gives you no ability to create proprietary assets or "own" your application. A custom-designed FileMaker app, on the other hand, does.
5 Key Reasons to Use FileMaker to Create Your Custom App
FileMaker certainly isn't the only custom application development tool out there, but we do believe it's one of the best. Here's why.
1. It's Quick
When you hire a developer to build software for your business from scratch, the process usually takes months to complete (in some cases, years). As a low-code solution, FileMaker offers a shortcut that doesn't sacrifice quality. You can get your hands on solutions in mere weeks, which is likely crucial if you're already exploring the possibilities of a custom application.
2. It's Easy
FileMaker isn't just quick and simple to use during development. After the app has launched, your team will find that learning to use the app and training others is relatively straightforward. You won't face weeks of valuable time just learning how to transition.
3. It's Affordable
If you're in the process of considering custom app development, you've likely already realized that it can be expensive. One of the biggest reasons to develop applications with FileMaker is to save money. You'll find it's much more affordable than hiring in-house developers.
4. It's Scalable
If you don't know how much your business will grow in the coming years, FileMaker custom app development is a great fit. The platform allows you to expand and alter your custom application as needed, which means our team can help you scale solutions as necessary.
5. It's Versatile
Lastly, FileMaker apps can take on a wide range of tasks, including storing personnel records, creating email campaigns, and managing user permissions. It works across both Apple and Windows devices, including tablets and phones, boosting its versatility for all users.
FAQs About Claris FileMaker App Development
Why choose a custom FileMaker app over a cheaper off-the-shelf program?
The short answer? Off-the-shelf applications aren't developed for you. They might meet some of your needs, but you'll likely have to pair them with other strategies and software to tackle all of your objectives and challenges.
FileMaker solutions are customized to meet your exact requests. This boosts your team's efficiency and decreases the number of applications you need to use on a regular basis. You can spend less time "making stuff work" and more time checking tasks off your to-do lists.
Another thing to consider: most off-the-shelf software products have monthly usage expenses or per-user licensing fees. You might be surprised to realize that building a custom application is nearly the same price (if not more affordable) in the long run.
How long does it usually take to build a custom FileMaker application?
The length of a custom app development project depends on its scope. The timeline may vary due to your business's specific needs and requirements. To learn how long it may take to build your custom FileMaker app, contact Harlow Technologies today for a consultation.
Can you use FileMaker to develop mobile apps?
Yes. At Harlow Technologies, we have created FileMaker apps to suit a wide range of devices, including mobile phones. As we transition to an increasingly remote, digital world, it's crucial that you have access to your data wherever you are, whenever you need it.
Learn More About Custom FileMaker App Development
The bottom line is that we build FileMaker solutions around your needs. Our goal is to help you explore the possibilities this platform can offer and meet unique challenges.
Are you ready to learn how Claris FileMaker could change your workflow? Give us a call at 1-866-852-4HTI or schedule a consultation with us online. We're ready to get the ball rolling on your custom app solutions.
Web Manager