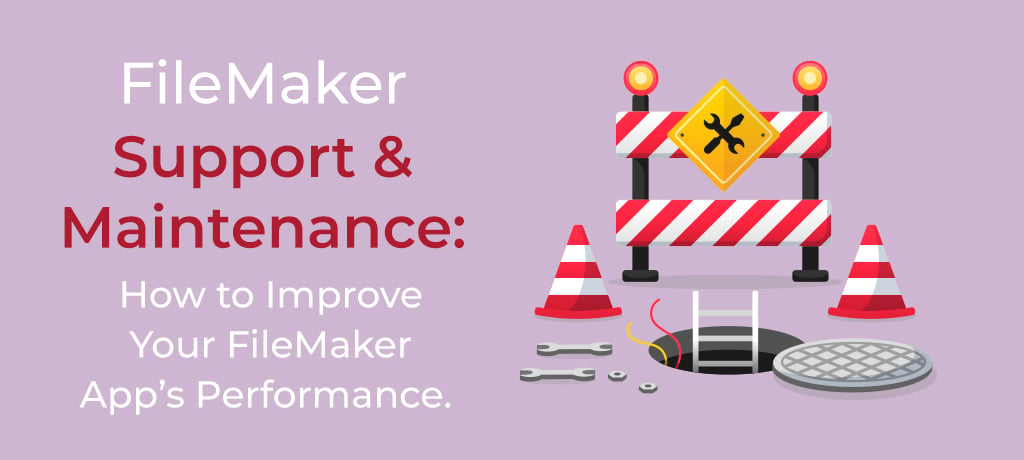 FileMaker Support & Maintenance: How to Improve Your FileMaker App's Performance
It doesn't matter what kind of software your team uses – performance is likely one of your biggest concerns, especially in the cloud. You need to know that your application is working as effectively and securely as possible, all day, every day.
When it comes to FileMaker custom apps, support and maintenance are key aspects of maintaining high performance. Everything from the database's network to the scripts can impact how your application runs – and the cyber threats your team faces.
Today on the Harlow Technologies blog, we want to share five big ways that professional services can improve your custom app's performance. They will:
(1) Improve Your FileMaker App's Network Connection
When you work with a FileMaker support team, they'll ensure your local network is conducive to fast, smooth app performance. At Harlow Tech, we ensure all of our clients are operating on networks that are at least 10Mb/second or better. This prevents them from dealing with delays and malfunctions on their FileMaker applications.
Furthermore, we also provide opportunities for network sharing. This allows you to share the same custom app files simultaneously, across a wide range of personal devices and desktop computers.
(2) Host With a Dedicated FileMaker Server
One of the most common complaints we hear from FileMaker users is that their database is slow. More often than not, their problem lies in their host server, not in the custom application itself.
If you're regularly sorting through a heavy amount of information in your FileMaker database, or you're displaying complicated layouts, you'll want a FileMaker Server that can speed things up. The best way to access top-tier FileMaker hosting? Go through a Claris FileMaker expert.
Harlow Tech hosts all client FileMaker databases in a state-of-the-art data center. This allows custom applications to:
Handle more local processing
Process multiple guest actions simultaneously
Update data in real-time (with several users at once)
Although you don't need a professional team to host your FileMaker application, working with the pros is the best way to ensure your server and cloud solutions actually meet your specific business needs. With the right server setup, you could support up to 250 users at once without sacrificing performance.
(3) Enhance Your FileMaker App Security
In a recent study from the Synopsys Cybersecurity Research Center, more than three thousand mobile apps were analyzed. Roughly 63% of the assessed mobile apps were found to have at least one known security vulnerability, but many had even more.
The bottom line is that mobile apps, as well as desktop and tablet applications, are prone to security vulnerabilities. It doesn't matter where and how people access your FileMaker app – it needs to be properly encrypted and updated to the latest security recommendations.
That's a big part of what we do at Harlow Technologies. Our FileMaker support team stays at the forefront of cybersecurity news, and we ensure all of our clients are prepared for the latest threats and vulnerabilities. In our increasingly remote-based world, you need to know that your connections and apps are safe across all phones, desktops, tablets, and any other devices.
(4) Improve the App's Functions, Scripts, and Triggers
Professional FileMaker teams can also boost your application's functions, scripts, and script triggers. This provides you with more security, especially as you delete, audit, and maintain various records.
Talk to a FileMaker support provider to learn about:
Adding or deleting account safely
Resetting account passwords
Enabling or disabling accounts
Archiving old records
At Harlow Tech, we provide all of our customers with information on the latest security compliance regulations. We also offer app security audits to help find areas for improvement with better functions and scripts.
(5) Address FileMaker Issues Immediately
Lastly, it's important to realize that FileMaker maintenance and support needs to happen in real-time. Working with a team of FileMaker experts ensures you can tackle unexpected issues and concerns as they happen, which minimizes stalls in productivity.
Our FileMaker developers are here to maintain your application's performance, address problems as they arise, and help you avoid unnecessary downtime or failures.
The Wrap Up
Far too often, we see FileMaker users deprioritize their application's support and maintenance. This leads to a wealth of problems down the road, as well as subpar application performance all around.
Don't wait until real problems arise to start thinking about your FileMaker app's performance. Now is the time to prepare for security threats and updates, as well as to oil the wheels that keep your database software running.
Furthermore, working with a FileMaker maintenance provider can help you access the newest features and enhancements. Claris FileMaker is continuously rolling out new features for compatibility, as well as security updates, and you don't want to miss any of them.
Learn About Our FileMaker Support and Maintenace Services
 Harlow Technologies tackle it all. From FileMaker web integrations to ongoing maintenance and upgrades, we ensure that your custom application meets every need. We've worked with many small businesses, as well as large Fortune 500 organizations with FileMaker applications.
We don't just take on the occasional FileMaker project – we're full-time FileMaker consultants and developers. This specialization has granted us unique experience when it comes to creating, hosting, optimizing, and maintaining custom applications.
 Want to learn exactly how we can improve your FileMaker app's performance? Call 866-852-4HTI or send us a message online. In just the initial consultation, we'll identify the key problems to tackle and how your FileMaker app could be improved.
Web Manager