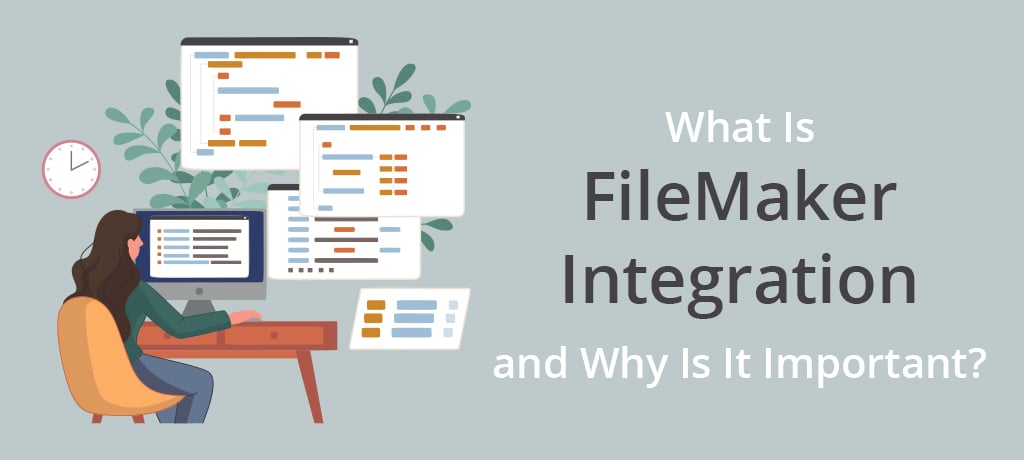 What Is FileMaker Integration and Why Is It Important?
You probably use more than one system to run your business. Whether it's a combination of off-the-shelf solutions or unique, customized platforms, you need to ensure they all work together seamlessly for your team and your customers.
That's where FileMaker Pro comes into the equation. Too often, we see clients carefully select the tools they want to use, only to overlook how these tools can connect. If your most crucial apps can't work together, you'll face headaches from manual workarounds, wasted time re-entering data, and dozens of other inefficiencies.
You don't need to create a custom ap that does everything, but you do need software that brings all of your data into one convenient, secure location.
At Harlow Technologies, we help small to mid-sized businesses create custom applications that flawlessly integrate with all of their top tools and resources, including Salesforce, QuickBooks, and social media. Let's take a look at what FileMaker integration is, why it's important, and how we can assist your team.
Understanding FileMaker Integration
We've talked a lot about how flexible and customizable FileMaker Pro is, especially when it comes to accounting, payroll, and general data management. SMBs need the capability to push data from their application to other platforms, and vice versa. In other words, they need FileMaker integration solutions.
Claris FileMaker is the most powerful when you leverage its ability to work with other software and applications. Over the years, our team has helped businesses integrate with a wide range of other tools, including:
There are hundreds (if not thousands) of possibilities when it comes to FileMaker software and plugin integrations. If there's an app you need to connect with, talk to our integration team about making it possible.
The Importance of FileMaker Integration
Why is FileMaker integration so important? Well, the manner in which you store and use your data can dramatically impact your business's security, efficiency, and profitability. You want to get the most from the data you produce and collect, and the only real way to do that is to automate easy integration.
FileMaker integration allows your organization to do two key things:
1) manage your data in a central location
2) make it accessible to everyone who needs it – regardless of their location
In a world where up to 16% of companies are fully remote and at least 62% of workers claim to work remotely occasionally or more, you need integration capabilities that make data management simpler and more functional. FileMaker allows you to bring multiple web applications, database systems, and plugins together to improve your team's productivity – remotely or in the office.
For example, building your own payroll processing system would be a costly and time-consuming endeavor. A FileMaker QuickBooks integration project could quickly provide you with a custom solution that leverages the power of an external app while using the data your custom software provides.
Similarly, many companies turn to FileMaker Salesforce integration services to streamline their lead management and sales processes. It's an affordable way to rely on third-party applications while still centralizing your critical workflows.
FileMaker Integration for Apps
Application integration is all about connecting different apps in an effort to automate business processes. Instead of manually importing and exporting data from one program to another, FileMaker integration allows you to provide a more dynamic, functional experience for both your team and your customers.
FileMaker app integration can work with:
Internal database applications
Websites and web applications
Online services
Although you can conduct FileMaker integration with a wide range of applications, you'll likely need a team of FileMaker Pros that can streamline the process and ensure the integration is seamless. Talk to Harlow Technologies about integrating your crucial applications, both internally and online.
FileMaker Integration for Data
FileMaker data integration is similar to app integration, but it's a little more complicated. You'll need to work with a team that can combine information from at least two different sources, compiling a unified and comprehensive data management solution.
This keeps your data synchronized across your business system, even if you use multiple apps or services to gather the information. Furthermore, FileMaker data integration helps you eliminate redundancies and human errors by decreasing the amount of manual work.
At Harlow Technologies, we integrate and synchronize various data sources without complex coding requirements. This allows us to perform complete migrations and conversions quickly – without wasting your time or money.
Have Questions About Our FileMaker Integration Services?
Don't be one of those businesses crafting makeshift workarounds for dealing with multiple apps at once. There's an easier way – and it wastes less time, uses less energy, and minimizes the risk of human error.
With cybersecurity concerns on the rise, it's more important than ever to have your data management and integrations locked down. Our team will help you optimize your use of third-party and custom applications to keep your data management processes running smoothly.
Learn About Our FileMaker Web Integration Services
Harlow Technologies does it all, from FileMaker integrations to ongoing maintenance and upgrades. Our experts ensure your app meets every need – especially the ones that are unique to your organization. We've worked with many small businesses, and we've become pros at customized app services.
Want to learn exactly how we can improve your FileMaker app and integrate it with other software? Call 866-852-4HTI or message us on our website. In just the first call, we'll identify the key problems with your setup and brainstorm ways to better manage your data.
Web Manager