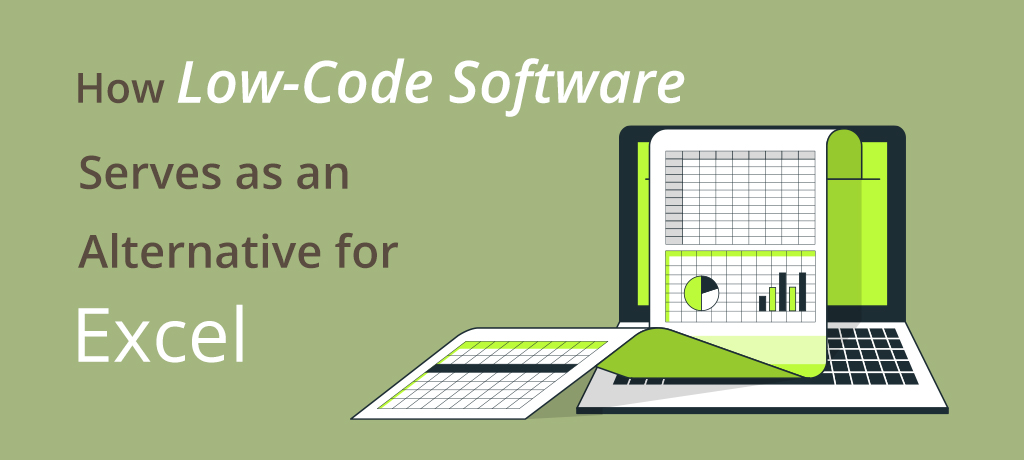 How Low-Code Software Serves as an Excel Alternative
For decades now, Microsoft Excel spreadsheets have been the go-to strategy for organizing business data. They're relatively easy to use and are available to pretty much anyone with a computer and Microsoft subscription.
However, that doesn't mean Excel is the best way to handle all of your company's needs. It may be a great program for crunching numbers, but it's not the end-all-be-all of information management solutions. That's where low-code applications come in.
Your program's "code" is essentially its DNA. Each line of code instructs computers, servers, and other machines to execute tasks. "Low-code" refers to applications that require minimal coding knowledge but that can still be personalized to do more than standard apps like Excel.
Today on the Harlow Technologies blog, we want to talk about how customized low-code software can serve as a powerful alternative to Excel. Let's see what branching out could do for your business, both in terms of workflow and revenue.
What Does "Low-Code" Mean in Development?
You don't have to have advanced coding knowledge to set up a system that focuses on the end-user experience. Low-code software requires little to no real coding knowledge in comparison to high-level apps that would necessitate the help of an experienced programmer.
Businesses will still need software developers for help with some aspects, but in general, low-code solutions allow companies to create customized solutions without needing to source special talent.
Low-code solutions focus on the end-user experience – not on what is taking place behind the scenes.
By using low-code solutions, companies like yours can focus on building unique, productive features for end-users rather than wasting time creating code for simple background tasks, like creating layouts or images.
The Benefits of Low-Code Solutions
Low-code solutions don't just save time. They also make it easier to build prototypes, test them, and launch the final application. This has been hugely beneficial during a time in which so many people are in need of remote tools for increasingly flexible work setups.
Other benefits of low code software include:
User-friendly and intuitive setups
Affordability
The ability to collaborate with multiple users simultaneously
Mobile compatibility
Scalability for fast-growing companies
Why Use Low-Code Software Apps Instead of Excel?
Now it's time to get into the bulk of this blog post: why would a business use a low-code application instead of Excel spreadsheets?
Excel certainly has its place in our modern-day businesses. It's great for startups and small businesses and can help with reporting, data management, task management, and more.
However, as your business begins to grow (and its needs evolve), Excel might not have every capability your team needs. Let's look into six key reasons you might need a customized low-code app, rather than sticking with Excel alone.
1) Excel Sheets Can Become Unwieldy and Confusing
The more your business grows, the more spreadsheets you'll have floating around as you try to manage endless streams of data. If you're like most companies, you have a team member or multiple dedicating time simply to managing spreadsheets.
Low-code solutions simplify things. In mere minutes, you can customize your layouts to meet the unique needs of different users – without storing your data in multiple different places. Think of it as a more user-friendly way to tackle the tasks usually performed in Excel.
At Harlow Technologies, we use FileMaker Pro (a low-code programming software) to create custom applications that are simplified and efficient. Your team can stop wasting time and start getting more work done with a setup that's truly tailored to your needs.
2) Low-Code Apps Provide Better Control
Have you ever had several team members try to access a core spreadsheet at once, only to realize they're creating multiple versions of the same sheet?
In today's remote work setups, you need to have proper control over your data. There's no time for errors when it comes to document sharing and accessibility. Everyone should be able to access what they need without jeopardizing the workflow as a whole.
Low-code applications, like those we create with FileMaker Pro, give you more control. You can write scripts to perform all sorts of actions with data. This includes executing more control over data accessibility and ensuring all team members can get to what they need from wherever they need it.
3) Custom Software Decreases the Risk of User Errors
Unfortunately, human error is still the leading cause of issues with data management – as well as the top contributor to data security breaches.
That's another issue with Excel: it's very easy for users to accidentally edit or delete spreadsheet data and formulas, which can land you in a world of trouble. All it takes is one confused or distracted employee to dramatically affect your data management.
A centralized low-code system offers a better way to decrease the risk of user error. You can lock down certain areas to different permission groups, which means new employees aren't bumbling around and making serious mistakes in important spreadsheets.
4) Excel's Security Is No Longer Sufficient
Excel's password protection options aren't really cutting it anymore when it comes to modern security needs. You need barriers like user-level password protection and data encryption, both of which FileMaker pro apps can offer.
The FileMaker Platform employs a unified security model across all devices, including iPads, iPhones, Windows, Macs, and more. Because the files are hosted on the FileMaker Server, you can rest assured that your data is truly safe.
5) Custom Software Crashes Less Often
When Excel sheets become unwieldy and large, they also crash more often. This can lead to lost data and hours of extra work.
If your Excel sheets are crashing or running slowly, your team could benefit massively from working with custom software. Low-code applications will be better able to handle the growing needs of your business, without slowing down or affecting the team's performance.
6) Excel Isn't Always Up to Your Business Challenges
Lastly, Excel can handle relatively small amounts of data and reporting with no problem, but often can't handle the amount of data produced by a growing business. Low-code systems offer more control over the data and can do things that Excel simply wasn't built to do.
More and more businesses are opting for low-code alternatives to manage their data, build custom dashboards, and automate their processes – without a significant IT investment. FileMaker Pro apps give smaller businesses a powerful tool for a fraction of the cost of hiring a real developer.
Get Started With Your Custom Low-Code Application
The ultimate point of FileMake's low-code solutions is to serve your needs in a way that Excel alone cannot. As a Certified FileMaker Pro development company, our goal at Harlow Technologies is to help you explore the possibilities. We've overseen hundreds of FileMaker projects, and we know exactly how to tailor the platform to meet your company's goals, problems, and requests.
Want to know how Claris FileMaker could change your workflow and give you more opportunities than Excel? Call Harlow Technologies at 1-866-852-4HTI or schedule a consultation with us online.
Web Manager