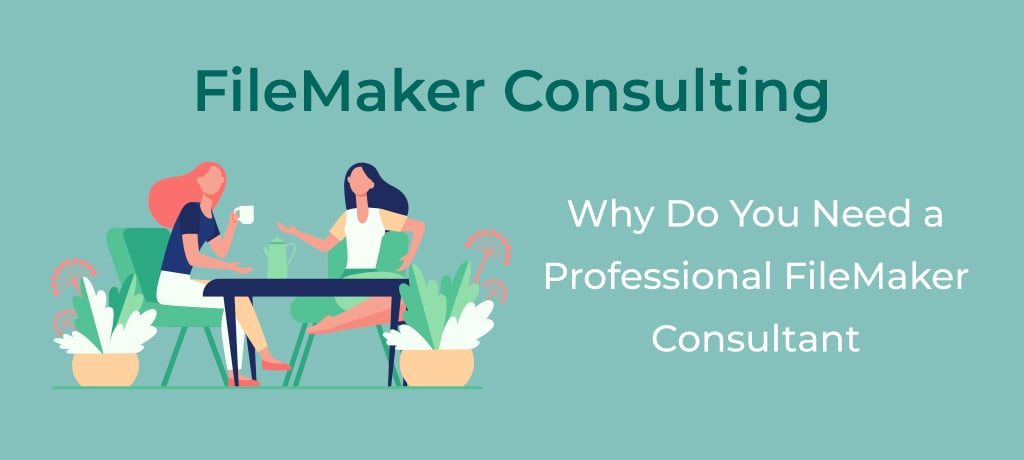 FileMaker Consulting: Why Do You Need a Professional FileMaker Consultant?
Claris FileMaker might be a quick, low-code solution to your system's inefficiencies – but that doesn't necessarily mean your team can figure it out alone.
When crafting a FileMaker solution, many businesses have to make a decision. They can either hire an in-house FileMaker team, work with a contractor or freelancer, or turn to a consulting firm.
If you ask us, there's one option that stands above the rest. Working with a FileMaker consultant is one of the best ways to ensure you're maximizing the functionality of your custom application.
Whether you need an application to publish your brand's surveys or collect consumer feedback, an experienced FileMaker consultant can show you how to create it, maximize it, and totally customize its features.
If that's not enough to reveal the value of FileMaker consulting services, consider that an experienced FileMaker expert can help with:
Modifications to Existing FileMaker Solutions
Your team might already be using FileMaker Pro to manage data. However, as your business grows, your custom software application requirements may change, too.
Consulting services aren't just for companies turning to FileMaker for the first time. A skilled FileMaker consulting firm will provide you with ideas for innovation and more efficient workflows, based on your company's specific needs. They'll talk you through possibilities based on extensive experience building custom apps.
Furthermore, certified developers will help you find the most cost-effective options for modifying your current setup. Whether you're adding to your custom application or looking for new features, a trained consultant will guide you toward a solution that fits your budget.
FileMaker Maintenance and Support
One of the most crucial reasons to consider hiring a FileMaker consultant is for maintenance and support. A FileMaker developer will have years of experience working on customized applications, and they'll be able to provide you with the technical expertise and guidance you need.
When looking for FileMaker consulting services, pay attention to their accessibility. You'll find that the top FileMaker consultants are available by both phone and email, and they will likely offer remote access and on-site support. They're your gurus in your back pocket, ready to ensure your FileMaker solution runs at peak performance.
Deployment to Other Devices
Security for your custom applications has never been more critical. The year 2021 broke the record for the highest number of data breaches, and unfortunately, attacks are becoming increasingly targeted. Even small to medium-sized businesses won't be overlooked by hackers and cybercriminals.
That's another crucial reason to work with a FileMaker consultant. You need an expert to ensure all of your devices are safe while using your custom application, including phones, laptops, and tablets.
One of the biggest benefits of using FileMaker is its versatility on different devices. However, that's also a weakness if your security setup is subpar. Turning to a trusted FileMaker consulting firm is the best way to ensure you're covering all of your bases, protecting your team members, and defending your data.
Web Integration Services
You may already know that FileMaker Pro is adept at integrating with other platforms, but forging seamless connections does take a little skill. A trained consultant will guide you through the web integration process so that you can connect with all of your favorite software and platforms.
Have you heard of FileMaker Web Direct? This innovative web technology instantly runs FileMaker solutions directly in a web browser without web programming. A FileMaker consultant will help you understand how FileMaker Web Direct works and how it can benefit your team.
FileMaker System Audits
Your FileMaker Pro custom application may adequately serve your needs at first, but what happens when your user base grows and its requirement evolve? That's where a system audit comes into play.
FileMaker Pro consultants will analyze your current setup to understand its strengths, weaknesses, and areas for potential improvement. Not only is this a great way to find hidden problems, but it's also helpful when it comes to keeping your system running smoothly for years to come.
FileMaker Advice Specific to Your Industry
There's no substitute for guidance that's highly specific to your business and its goals. When you work with a FileMaker consulting team, they'll learn exactly what your industry requires and how a custom application can best serve a company in your field.
Over a million people a day use FileMaker in some capacity, but none of them are doing exactly what your team does. You need personalized support, but it needs to come from a consultant who understands your industry, users, and objectives.
A consulting firm can bring different perspectives to the table and make suggestions that your team may not have considered. Sometimes, a second pair of eyes can be invaluable.
The Wrap Up
FileMaker offers straightforward solutions to complicated, irritating data management problems. Just because you don't have a development team doesn't mean you're stuck using inferior strategies.
The right FileMaker consultant can serve as a trusted advisor and development expert. Your team doesn't have the time and experience to know everything about custom app development, but a consulting firm will.
Learn More About Our FileMaker Consulting Services
Harlow Technologies is home to a strong team of FileMaker Pro experts. Over the decades, we've built custom applications for hundreds of clients to solve unique problems and challenges. If you are still using Excel and Google Sheets as your manual databases, we'll show you a better way.
We don't just take on the occasional FileMaker project – we're full-time FileMaker consultants and developers. Our team has vast experience creating, hosting, optimizing, and maintaining custom application solutions. We've worked with small businesses as well as large Fortune 500 organizations.
To share your brand's unique needs with us, schedule a free consultation. Call 866-852-4HTI or send us a message online. In less than an hour, we'll identify exactly which problems to tackle with our FileMaker tools. We'll learn the ins and outs of your brand and team, then brainstorm custom applications to boost your productivity.
Web Manager