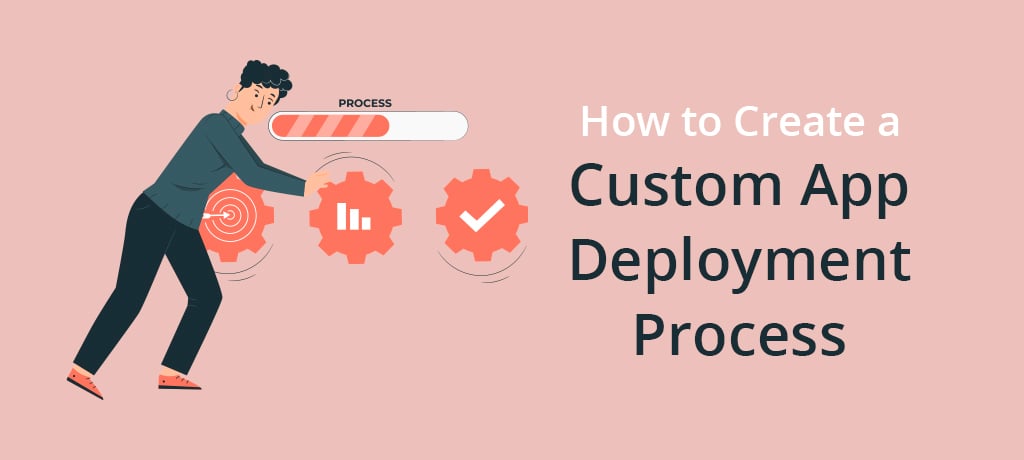 How to Create a Custom App Deployment Process
Over the past few years, we've seen a monumental boom in software development. Businesses of all sizes are turning to custom applications to improve their workflows, user experiences, and data automation.
As small to mid-sized companies create custom app solutions, they need to consider their strategies for deploying their new applications. Implementing a strategic app deployment process can help:
Minimize future application downtime
Address problems preventatively
Reduce negative impacts on user and team productivity
Harlow Technologies has spent the last few decades helping SMBs implement custom software, and we know how crucial app deployment is to the success of the entire project. So, let's take a look at how your team can create a custom app deployment process that actually works.
What Are Deployment Strategies?
Whether you're creating custom apps with FileMaker or another low-code platform, your app deployment process should be guided by a carefully thought-out strategy. In laymen's terms, you need to think about how you will simply and effectively transfer data from one environment to your new application.
When developing a custom application, you will need to oversee the shift from the app's testing environment to the live product – without hiccups. If you haven't thoroughly planned for the development process, you can incur some serious system and workflow disruptions.
Although we could easily use dozen of blog posts to talk about the most popular strategies, we want to quickly provide an overview of a basic (but solid) deployment method. We've completed hundreds of successful application projects, and we've seen what works.
Tips for Building a Strong, Effective Deployment Plan
Consider the Project Size
The first thing you'll need to do is assess how big (or small) this deployment process will be. Considering that the average software development project takes between one and nine months to complete, the scale of deployment can vary pretty significantly.
If you've been working on a complex custom application for the last few months, you need to start planning your deployment as soon as possible. The bigger the shift, the more thought and preparation the app deployment process requires.
Even if your project is relatively small, you'll want to start brainstorming deployment strategies fairly early on in the game. You may realize that you'd rather break deployment up into smaller chunks or deploy to certain user groups first, and the sooner you realize that, the better.
Write Out a "Day-Of" Plan
What will the app deployment process look like on the big day? Have you thought through all of the implementation aspects, from sign-off to user training?
Our recommendation for day-of plans: begin with your end-users in mind. Consider how the application will be tested and adapted to smoothly facilitate real user experiences.
Furthermore, consider how you're explaining the deployment process to the users. We always advise that our clients keep careful notes on all app-related discussions and share deployment plan updates with everyone on the project.
Successful app deployment processes revolve around effective communication. You need everyone, from the dev team to the newest user, to feel fully in sync. When this fails to happen, things slip between the cracks, and crucial user feedback goes unheard.
Adjust Your Timeline
After considering the scope of your project and what the day-of challenges will look like, you may need to revisit your application launch calendar. Make sure you're allotting enough time for each step of deployment – and maybe add a little wiggle room in the schedule, just to be safe.
Typically, you can expect to spend at least one week deploying a custom application after it has been thoroughly tested. However, you may need to extend that timeline to two weeks or more if complications arise.
Designate an Experienced Project Manager
This is a step many of our clients overlook, but it's a big one. A great project manager is the key to holding together the many moving parts of an app development and deployment project. You need someone who understands the project on a large – and small – scale.
More often than not, your application development part can assist with most of the project management. Still, teams like ours need a point of contact with the client who can help hold people accountable, manage timelines, and relay communications between users and developers.
Plan for Rigorous App Testing
We'll be honest: this can be the most tedious, painful part of the process, but thorough testing is essential. This is your quality assurance step, and without it, your application will likely run into major problems down the road.
When you create adequate time for testing, you set your application deployment process up for success. The time you spend testing and fixing problems upfront translates into time and cost savings after deployment.
Adequately Train & Support Future Users
Roughly 29% of users will immediately abandon an application if it doesn't offer value to them. Your application deployment strategy needs to properly explain the benefits and features to end-users, as well as train them to use the new software.
It doesn't matter if you think you have the best, most-straightforward business application in the world – if training is subpar, then the implementation process will suffer. That's why we often recommend that clients being training their end-users before the application even goes live. If you can get them familiar with the app in a testing environment, deployment will go much smoother.
When we develop custom FileMaker applications for our clients, we oversee this training personally. We've found that excellent app support upfront translates into a much easier transition overall. Many times, we don't even need to train every employee – just a top user in each group who can then pass along what they've learned to other team members.
Of course, preventative training isn't the only kind of support to consider. During deployment, you'll need to have a plan for answering questions, troubleshooting any problems, and guiding users through the implementation process.
Need Help Building a Successful Deployment Strategy?
Our Harlow Technologies team has completed more than 750 successful app projects in the past 25 years. We don't just dabble in low-code application solutions – we're experts in the field.
As a result, we've become well-versed in what a successful deployment strategy looks like, for small businesses as well as large Fortune 500 companies. If you're considering developing a custom application, or if you already have and are preparing to implement it, we can help.
Schedule a free consultation with our team. We'll learn the ins and outs of your business, then help you brainstorm the necessary elements for a successful app development process. Our job is to help you dot every I and cross every T, as well as to support your end-users.
Call 1-866-852-4HTI or reach out online to set up an appointment. We look forward to partnering with your team.
Web Manager