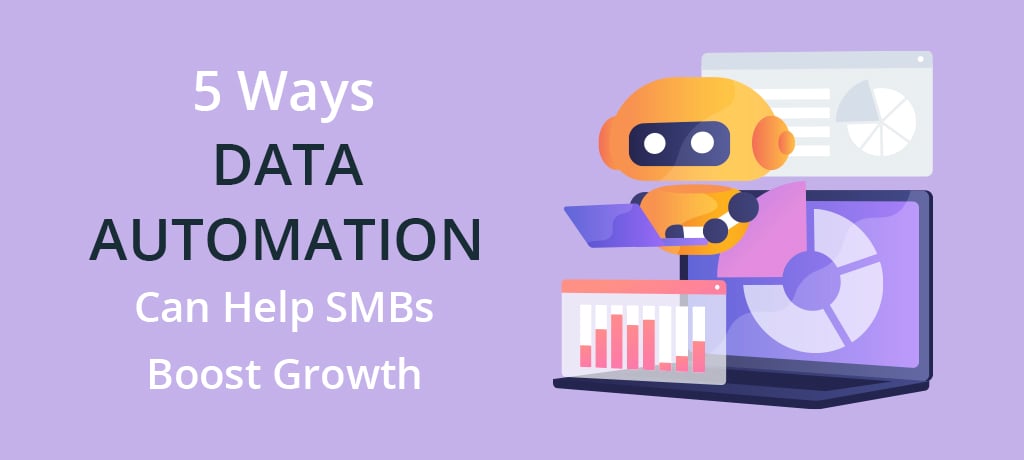 5 Ways Data Automation Can Help SMBs Boost Growth
Data is at the heart of business survival, not just for fortune 500 companies but also for small and mid-sized businesses. As a result, many SMBs now want to leverage data, specifically Big Data, to extract meaningful insights. It's no wonder the global big data market is likely to reach $103 billion by 2027.
For most SMBs, collecting vast amounts of data is not a problem – there's no shortage of information out there. Internet users create roughly 2.5 quintillion bytes of data every day, and it's just up to SMBs to make use of it.
The real challenge lies in processing and organizing this unstructured data into practical business insights – without wasting time or resources. That's where data automation comes in.
Automation makes complex data collection and analysis a breeze. Most importantly, it can help small businesses drive growth. Thanks to customized applications and systems, data automation is now within reach of small and mid-sized businesses.
What Is Data Automation?
Data automation allows you to collect, upload, store, process, and share data using automated technologies. It also helps you build a business ecosystem with little-to-no human intervention.
You don't need back-end employees churning out entries after entries to keep your database updated. With data automation, you can:
Save considerable time and money.
Reduce the risk of human error.
Increase data/insight accuracy for better decision-making.
Help employees focus on other business-critical responsibilities.
With application-building tools like FileMaker Pro, you can effortlessly build customized systems and applications. These systems can help automate and integrate different data sets to fuel productivity and business growth.
Let's look at how it all works.
1. Ensure Fewer Errors and Faster Processing
Many businesses still rely on manual data entry processes. Nearly half (48%) of manufacturing companies use spreadsheets or other manual data entry documents. However, this lengthy and error-prone processing can cost you dearly down the line with:
Poor customer experiences
Shipping delays
Inconsistent data, cost overruns
Compliance risk
Faulty reporting
With the volume of data only set to increase in the future, error-free and faster processing will be crucial – not just for large companies, but for small and average-sized ones, too.
When data automation takes over this repetitive task, you can process the data faster. This also lets your employees focus on more critical aspects of your business. That, in turn, boosts employee satisfaction.
Data automation also reduces the risk of human error. We all know errors take time and money to fix and cause poor decision-making. With automation, you can make data-driven decisions more confidently.
2. Make Your Data More Accessible
Automation allows you to create and maintain a data lake. A data lake is like a central repository of all your business-critical data. It's essentially a collection of raw data that you can feed into your system.
It also supports almost all data formats. When all the data is available under one umbrella, you can access, update, and process everything quickly and efficiently.
Furthermore, a data lake makes the data available to your entire organization. With the necessary data ready for processing, all stakeholders in your organization can make business decisions at their level.
This shortens your response time to current market trends, which leads to higher customer satisfaction. Whether you want to set up an app deployment proces or create a new email marketing campaign, a data lake makes it quick and efficient.
Automation also eliminates the need for data modeling. This brings unmatched flexibility and scalability to your organization. Hence, a data lake helps you unlock practical insights based on the latest data – as and when you need it.
3. Tell Your Story Using Data-Driven Insights
Data storytelling is more than just visualizing your data. It's a powerful way to communicate key insights to your target audience. In fact, it allows you to create business insights tailored to a specific set of audiences.
The human brain prefers stories over pure data. Thus, you can leverage data storytelling to create action-inspiring marketing drives. You can also use it to change the way your teams communicate with your data. Plus, compelling storytelling increases your productivity as well as business growth.
This approach involves processing vast amounts of data, again and again. Moreover, you need to process it in real-time or near real-time to ensure maximum impact. Only automation can put you in a perfect position to leverage data storytelling.
4. Leverage Real-Time Data Analytics
While email marketing campaigns may have a conversion rate as high as 15%, not all your marketing drives will be as successful. When your sales or marketing campaign fails to deliver the desired results, you need to find out what went wrong immediately.
Unfortunately, most SMBs cannot do so due to a lack of data automation. Manual data processing takes the momentum out of your marketing. You will need real-time analytics if you want to improvise your strategies mid-campaign.
Only data automation can make that happen. With automation, you can get hourly updates. This means you can:
Quickly identify and mitigate pain points in your campaigns and/or processes.
Makecritical business decisions without delay.
Increase the ROI of your marketing campaigns.
Improve overall customer satisfaction.
Stay on top of the short-term market changes/trends.
Tailor your marketing campaigns for a better customer experience.
5. Boost Your Team Collaboration
Team collaboration plays a crucial role in running a highly successful business. When your teams behave and work together, it leads to:
Better communication
Efficient processes
Higher productivity
Faster growth
The good news is you can boost team collaboration by leveraging data automation and data lakes. A data lake essentially democratizes your data pool.
In other words, all the stakeholders in your organization get quick access to the central data repository. They can pull the required data, process it, and get the insights when needed. It also allows different departments in your organization to customize their systems as they want. This ensures higher productivity.
At the same time, automation allows you to integrate different data sets into one cohesive ecosystem. It can bring you benefits such as skill-sharing, adaptability, and open communication. This keeps everyone in your organization on the same page and moving in the same direction.
Need Help Leveraging Data Automation for Your Business?
Today, running a business without data automation is like driving a car without gas. You need real-time, accurate, and data-driven insights to make well-informed decisions.
That's where data automation can help. It can bring many benefits, ranging from effective team collaboration to an error-free and faster process. In short, you need to think of automation if you want to leverage your data effectively.
Harlow Technologies has completed more than 750 application projects in the last 25 years. We have helped countless clients with custom software solutions, including custom FileMaker applications, that help integrate and leverage data more efficiently. If you need help streamlining your data and digitalization needs, we can help.
Schedule a free consultation with us today. Call 1-866-852-4HTI or reach out online to set up an appointment.
Web Manager