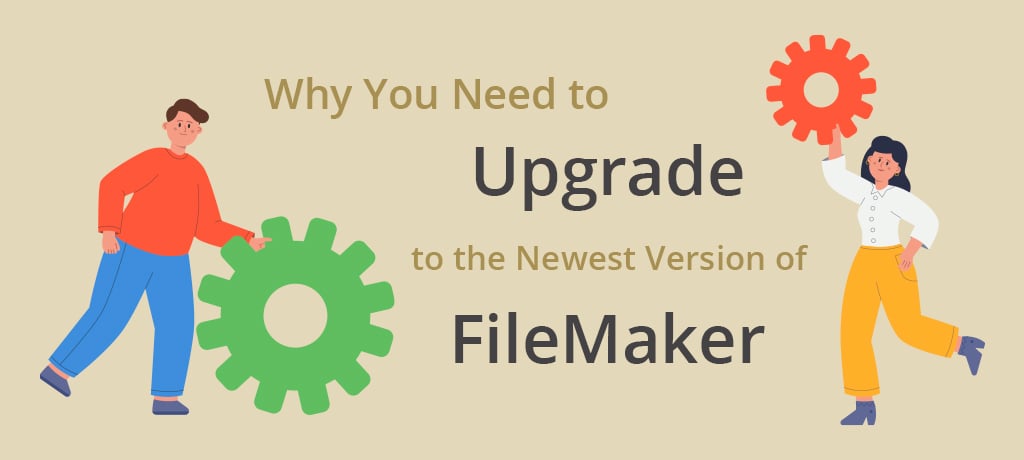 Why You Need to Upgrade to the Newest Version of FileMaker (ASAP)
We've all done it. We've seen the prompt to upgrade our phone, our iOS, our laptop… and simply ignored it for a few days (or weeks).
Upgrading can be a pain, and when we're juggling so many other things in our businesses, these updates often sit on the back burner for longer than they should. You don't want to deal with getting all of your users onboard and carefully planning the time for the switch.
The issue with procrastinating? Well, when it comes to your Claris FileMaker upgrades, you could be sacrificing the efficiency and security of your computers, operating systems, and other applications.
As a FileMaker Pro team, we've seen the benefits of upgrading – and the downfalls of putting updates off. It's always a good idea to jump on the bandwagon and quickly join the latest version of Claris FileMaker. Here are five reasons why.
1. The Sooner You Upgrade, the Easier It Is
As you skip major FileMaker Pro updates, your software will fall further and further behind the latest version. By putting off the inevitable upgrade, you're actually just making the entire process more difficult for yourself.
Instead of making one small leap to the next version, you could have to leap several versions ahead – and that's challenging. With every upgrade you miss, you expose your FileMaker software and apps to more:
Bugs
Security risks
Integration problems
Outdated, unsupported features
Time and time again, we work with clients who have stalled their upgrades, only to have to face a more painful, intense update in the future.
For example, we've worked with teams who were still using Claris FileMaker 16, only to face a world of pain when realizing their new Mac computers, iPads, and Windows versions were no longer compatible. This resulted in a rapid, somewhat stressful evolution that could have been prevented.
Do yourself a favor and rip the Band-Aid off now. Your software, team and customers will thank you for it.
If you have any questions about including regular system updates in your FileMaker maintenance, don't hesitate to reach out. FileMaker 19 has made upgrades easier than ever, and we'll ensure you avoid an overly laborious transition.
2. FileMaker Sunsets Its Old Versions
Secondly, you need to remember that you can only put off FileMaker upgrades for so long. Eventually, FileMaker will stop supporting older versions once they have been deemed obsolete. That means no more security updates, no more compatibility improvements, and no more troubleshooting.
As of right now, only the following FileMaker products are eligible for standard support or priority technical support.
FileMaker Pro 19
FileMaker Go 19
FileMaker Server 19
FileMaker Cloud for AWS 1.18
FileMaker Cloud 2.19
Of course, this list will change as the company continues to make improvements and roll out updates. If you choose to use a version that's not on this list, you'll be on your own when things go wrong.
3. App Store & iOS Upgrades
Claris FileMaker isn't the only source for updates. For instance, FileMaker Go's updates are controlled by the Apple app store. Because Apple has strict rules when it comes to running old apps on new devices, users don't always have much control over their choice to update.
Let's say your team all currently has older iPhones or Macs that support FileMaker Go. What happens when a new employee joins the team with the latest iPhone? How long can you put off the app update, without holding your team back?
4. Old Software Increases Vulnerabilities
The security of low-code app dev platforms is arguably one of the biggest priorities for all small businesses. You need to know that your custom app is 100% safe, both for the safety of your team and that of your customers.
If you're running an outdated, unprotected version of FileMaker, you're increasing your exposure to vulnerabilities. Don't wait until a cyberattack or data leak occurs to reconsider upgrading to a more heavily defended version.
Claris FileMaker publicly releases security changes and updates that protect the latest versions. For example, Claris® FileMaker Pro® 19.4.1 and Claris FileMaker Server® 19.4.1 were publicly released with security changes that mitigated the possibility of XML external entity injection (XXE) attacks.
New automation platform vulnerabilities are being discovered every month. That's why it's crucial that your business does everything in its power to stay on top of the latest threats.
5. In This Case, Newer Is Usually Better
Like most brands, Claris is always working toward something better. That means that every version of FileMaker Pro features improvements based on:
User feedback
Businesses' needs
Insights from user accounts
Evolving customer expectations
At the end of the day, if you're using an old version of FileMaker, you're missing out on the latest functionality and improvements. Do yourself a favor and adopt faster, more efficient features sooner rather than later.
Need Help Upgrading? Turn to Harlow Technologies
We know that spending valuable time upgrading your FileMaker Pro software doesn't sound thrilling, but it is a crucial step in protecting and streamlining your business operations.
If you're hesitant to pull the trigger, set up a call with our team. We've helped with hundreds of Claris FileMaker projects over the last decade, and we'll give you the tools and guidance you need to make this process painless.
Even if your team is several versions behind, reach out to Harlow Technologies. We'll ensure the transition goes smoothly, regardless of your current setup. Our consultants make custom applications work for you, not the other way around.
Web Manager