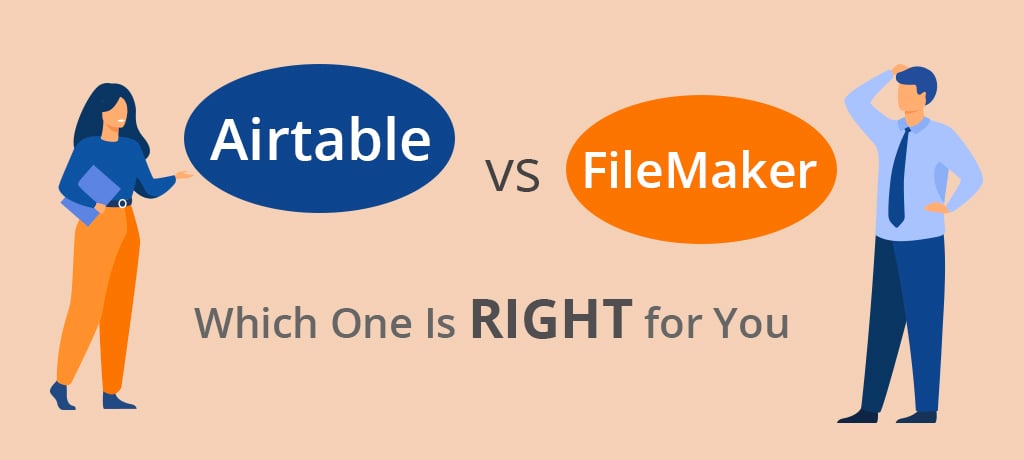 FileMaker VS Airtable: Which One Is Right for You?
At this point, most custom software users are aware of FileMaker Pro – if they aren't already using it. It's a powerful, flexible development tool that makes it easier than ever to create individualized applications for businesses. There's no high-end coding necessary.
Recently, though, another name has started to emerge in the conversation: Airtable. This spreadsheet hybrid has been around since 2012, and it's definitely made a name for itself.
Today, we want to talk to you about the key differences between FileMaker and Airtable so that you can decide which one is right for your business. We'll dive into each tool to understand the pros and cons, then conduct a quick comparison between the two.
What Is Claris FileMaker?
We'll start by talking about FileMaker Pro, the world's leading workplace innovation platform. This low-code software development tool makes it simple to create apps that:
Automate manual processes
Manage contact lists
Track inventory
Organize projects
And much more
The key selling point for Claris FileMaker Pro is its speed. Users can build custom applications in mere hours, versus taking days or weeks to work with developers for a similar result. The tool offers everything from assistance in building mobile apps to instant reports for better data management.
What Is Airtable?
On the surface, Airtable may sound quite similar to FileMaker Pro – but it's actually a pretty different beast. This tool is entirely cloud-based and "no-code" as opposed to low-code. Although it is booming and can be found in many workplace collaborations, Airtable isn't the same as FileMaker.
The key difference is that Airtable functions more like a hybrid spreadsheet than as a custom application builder. It presents a grid-like view, complete with the rows and columns that most spreadsheet users are very familiar with. This makes it easy to use, but it doesn't really offer the same capabilities (and customizations) as Claris FileMaker.
Generally, this tool is a great fit for businesses that can almost get away with using Google Sheets or Excel, but that need something a bit more equipped to:
Model data robustly
Collaborate with different teams
Facilitate strong communication
Additionally, if you use Zapier or IFTTT, Airtable makes it simple to integrate them with your data. It's a modern system that's definitely user-friendly, but not quite as versatile or capable as FileMaker.
Choosing Between FileMaker and Airtable
So, which one is right for you: FileMaker Pro or Airtable?
If you ask us, Airtable is perfect for quick, relatively simple data entry that doesn't require automation or serious integration with other solutions. FileMaker, on the other hand, is more powerful and meets needs far beyond what Google Sheets and Excel can meet.
Here are some other crucial comparisons to keep in mind:
– Usability
The truth is that Airtable is less complicated and easier to use than FileMaker pro. If you've ever worked with a spreadsheet before, then you can figure out how to use Airtable quickly. Still, Airtable is lacking in terms of security and script creation – which many users will deem very important.
– Data Management
Airtable offers a basic set of pre-built screens and features that can be turned on or off and configured – but to a limited extent. These tools don't offer the full customization options that some businesses need, although they do enough for companies with relatively simple data requirements.
If you have very specific data entry needs, FileMaker's ability to provide a custom-designed interface might entice you. It all depends on the level of necessary customization and data management.
– Cost
Comparing the cost of FileMaker to that of Airtable is a little tricky. The prices typically depend on the number of users, the size of the database, and the hosting services.
FileMaker users tend to spend about $125 per month on the platform license and hosting services. Airtable users, on the other hand, typically spend about $100 for Airtable with no hosting services.
The prices generally aren't outrageously different, but you will need to consider the cost of hosting services (which FileMaker can provide but Airtable cannot).
– Server Options
Because Airtable is a cloud-based system, it doesn't offer a server component for end-users. Although most users won't be upset by this, it does make it more difficult to import large quantities of data, send batch emails, and perform backups.
– Support
Again, Airtable does seem to win in ease of use and support. It has both desktop and mobile support services built right into the system, which can certainly ease users' worries. FileMaker Pro can be more intimidating, and it does require a higher level of support – likely from a specialized consulting team.
The bottom line is that FileMaker likely wins if you need:
complex data modeling and analysis
integration with outside data sources
high-security systems with data protection and encryption
Of course, the choice between the two tools lies heavily in your specific needs. If you're struggling to decide, it may benefit you to speak with a software development consultant.
Still Need Help Choosing Between FileMaker and Airtable?
At the end of the day, you need to create an app that fits your business's needs – no one else's. That's why Harlow Technologies begins every client relationship with a free consultation. We want to learn what you need so that we can recommend the best path forward for your team.
If you aren't sure which data management tool you need, let's talk about it. Schedule a call with a strategist from Harlow Technologies today, or give us a call at 1-866 852- 4HTI.
Web Manager