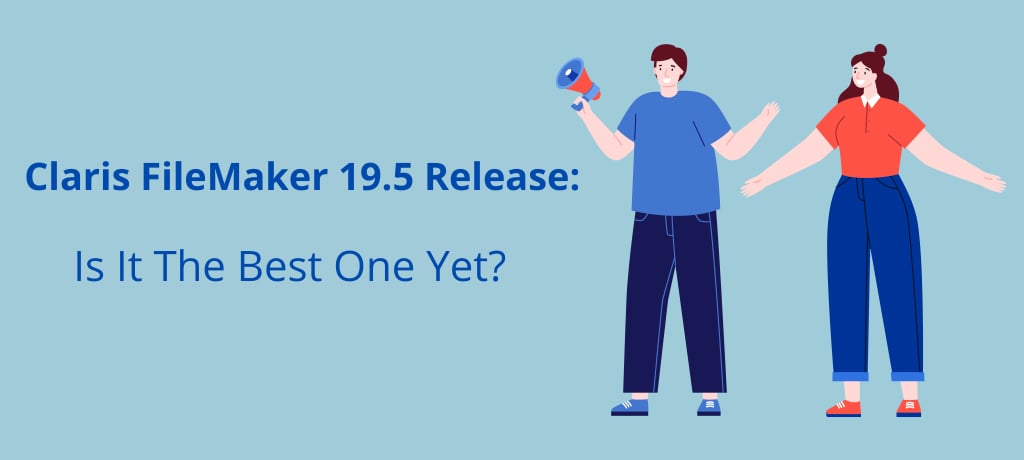 The Claris FileMaker 19.5 Release: Is It the Best One Yet?
What began as a simple, inexpensive table manager has transformed into one of the leading workplace innovation platforms worldwide. Today, you can use Claris FileMaker to build just about anything, ranging from CRMs and ERPs to complex databases. The tool is widely known for its ease of use, flexibility, and scalability.
A wide range of organizations relies on this software development tool, including:
Biotech & Pharma
Education
Entertainment & Post-Production
Consumer Goods & Manufacturing
Small Business
A big reason behind FileMaker's continued domination of the tech market is its updates. FileMaker has consistently released a better version of its predecessor, improving elements.
Keeping in line with this business practice, Claris has released FileMaker 19.5 – the latest version of this rapid application development (RAD) platform.
Let's get a glimpse into what Claris FileMaker 19.5 offers.
Understanding What Claris FileMaker 19.5 Offers
Claris FileMaker 19.5 is thought to be the strongest release to date. The update brings you a professional development tool that helps you make your business future-ready. It also comes with newfound strength of performance, security, and reliability.
Here's what you will see in the FileMaker 19.5 release.
Enjoy Expanded Extensibility
This update is designed to make FileMaker even more compatible. As your business applications need to share the data, FileMaker 19.5 release comes with expanded extensibility.
These features include:
OData: OData is the REST-based integration standard that lets you easily integrate your FileMaker data into other apps and services. With this release, OData is now available on Windows and Mac OS in addition to Linux.
Live Text and QR Code Support: This feature lets you add QR code data and Live Text from images to your FileMaker files. It is now available with the latest Apple OS devices. It essentially helps you capture more data with ease and security.
FileMaker WebDirect OAuth Scripts: You can add OAuth sign-in buttons to your custom websites via JavaScript.
GS1 Barcode Support: With this expanded barcode support feature, you can scan GS1 barcodes on your iPad and iPhone.
Data Migration Tool Enhancements: This enhancement allows you to streamline data migration when updating files in multiple languages. It also makes developer tools available for free.
JSON Calculation Function Improvements: This featureprevents errors and saves time while you are troubleshooting. With this feature, you can determine if your JSON syntax is valid with the new JSONGetElementType calculation.
Increased Performance, Reliability, and Security
With FileMaker 19.5 release, you get the best performance, reliability, and security a pro-level low-code tool like FileMaker can offer. These features include:
Ubuntu 20.04: You can now use FileMaker 19.5 release Ubuntu 20.04 LTS. It runs on NGNIX – the world's most popular high-speed web server. It includes support for the latest third-party libraries, security features, and performance enhancements.
Save a Copy as XML: This release makes it easy to transform your FileMaker files on FileMaker Server into XML files at lightning-fast speeds. Plus, you get better automation capabilities, granular audit control with version tracking, and easier integration with third-party developer tools.
Server-Side Summaries: Thanks to server-side summarization, you can speed up data processing for groups of records.
Parallel Backups: This feature helps you automatically group related backup files. Moreover, you can run them simultaneously, increasing the processing efficiency with parallel backups.
Cancel Backups: You can also cancel backups easily if the process gets interrupted or you need to perform another operation for easier maintenance.
FMP URL Protection: This protection prevents the hosts from connecting to malicious clients. It provides you with proactive warning notifications.
Increased Memory Cache: The 4x increased memory cache makes it easy to perform memory-intensive tasks on the FileMaker Server scripting engine.
FileMaker WebDirect Performance Improvements: You also get to experience improved FileMaker WebDirect performance with server-side CSS caching.
Bug Fixes: The FileMaker 19.5 release comes with nearly 400 bug fixes across all platforms. These fixes address performance, scalability, and reliability issues. Claris focused on fixing bugs in Security, Installation, Calculation Functions, Script Workspace, FileMaker WebDirect, FileMaker Admin API, FileMaker Data API, and much more.
Upgrade to FileMaker 19.5 Today
As a business owner, you upgrading your workplace platform can be challenging. However, it's important to only the updated and the latest version of FileMaker. This reduces the chances of encountering bugs, security risks, integration problems, and outdated, unsupported features.
Furthermore, with FileMaker 19.5 upgrade, you will be able to build next-generation business solutions. If you want to stay ahead of your competitors, you are going to need a low-code/no-code (LCNC) database management system like FileMaker. In other words, you will need to upgrade to the 19.5 version as soon as possible.
Need Help Upgrading?
Instead of figuring out how to upgrade your FileMaker software yourself, why not rope in the experts? Experts like Harlow Technologies can help you make these upgrades quickly, safely, and seamlessly. Talk to our team if you are unsure about getting the FileMaker 19.5 release.
Harlow Technologies has worked on hundreds of Claris FileMaker projects. Let our experts take care of your FileMaker-related needs, whether upgrades or routine maintenance. Reach out to us today!
Web Manager