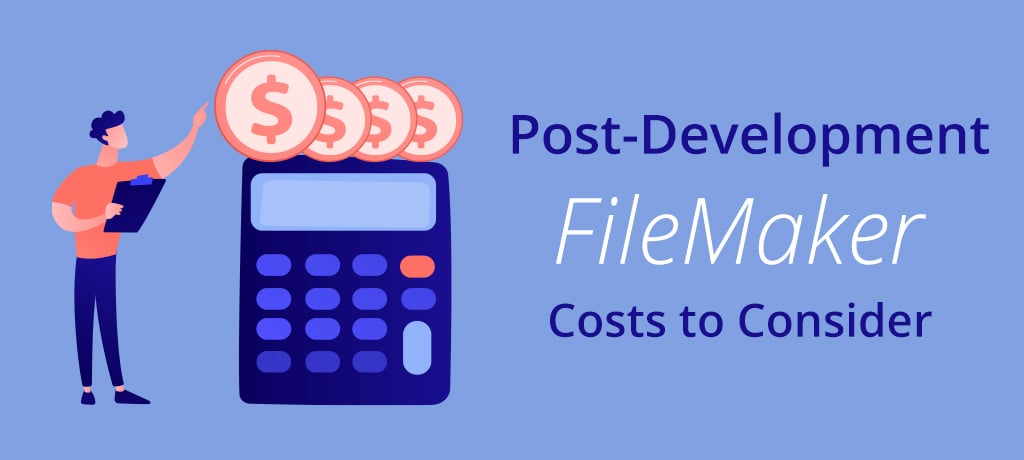 Post-Development FileMaker Costs to Consider
Cost is always an important factor when it comes to custom app development. You're working on a budget, and there are many factors that can throw your numbers out of whack – leaving you facing more expenses than initially expected.
When crunching the numbers, don't forget to think about the costs that come after you launch your custom FileMaker application. The expenses don't end when the first round of development does – and you need to account for that in your budget.
As custom FileMaker app developers, we've seen it all, and we can help you craft an accurate budget. Let's take a look at the support costs you'll likely face after development, as well as the importance of planning for them in advance.
Why Plan for Post-Development Costs?
When shopping for a new car, any financial advisor will tell you to plan for more than the purchase price and/or financing. You'll also need to account for future maintenance expenses, the cost of auto insurance, registration, and more.
Custom software is the same way. You'll invest plenty of time, money, and effort upfront, but it doesn't stop there. After the FileMaker application is launched, it will be your responsibility to maintain and update the technology as necessary.
This brings us to our next question…
What Goes Into Post-Development Costs?
There are many factors that determine how much it costs to maintain your application after it launches – and how expensive the maintenance will be. Although we can't dive into all of them in one blog post, we can cover five of the top costs you will likely encounter.
1. Hosting Environment Management
The first expense you'll need to plan for is your app's continual hosting needs. It doesn't matter if you plan to run your app via an on-premise or Cloud-based server – strategic and safe hosting isn't free.
Many software and application experts recommend budgeting at least 20% of the original development cost as hosting "maintenance" expenses. Although some hosting environment support costs as little as $200 per month, others can easily be over $1,500.
Your hosting environment and management expenses will depend on:
The number of backups/redundancies.
The number of servers.
The extensivity of your fail-safes.
Your specific disaster recovery strategies.
If your FileMaker application is critical, you'll likely pay more for high-end, foolproof hosting solutions. The more complicated your infrastructure is, and the more servers you need, the higher your expenses will climb.
If you've developed a less critical internal application that has a smaller footprint, you may be able to get away with minimal hosting expenses – but you'll still need to budget for monthly costs.
Trying to budget for your FileMaker's hosting costs? Make sure to give us a call – we offer competitive costs and exemplary hosting environments.
2. Licensing Costs
In a similar vein, licensing your app isn't a one-time expense. Claris FileMaker charges an annual price for its application licenses, at least $228/year. This might not be an extraordinarily high cost, but it is still one you should account for in your financial planning.
Claris FileMaker allows companies to purchase licenses for multiple years at a time, rather than paying annually. This is often cheaper, so if you can account for that in your upfront budget, it may be a financially savvy option.
A tip from our team: different companies offer different prices for FileMaker licenses. As certified resellers ourselves, we offer extremely competitive pricing to all of our clients who build custom applications. Reach out to learn what we can offer you.
3. Reliable End-User Support
Anyone who uses your FileMaker application will likely need to contact support at some point. Whether they have a simple question or they've encountered a new issue, there needs to be a support team in place – and that's not free.
As much as you'd like to handle support queries yourself, that's not necessarily a realistic expectation. Users need a continuously available, reliable platform they can contact 24/7.
There are dozens of internal and external support options out there for custom applications. Take some time to explore them, learn their prices, and make plans for the future of your app.
4. Troubleshooting and Problem-Solving
It doesn't matter how carefully and expertly your app was developed – you'll run into problems eventually. That's one of the burdens of custom application development. You're on the hook for any issues, complications, or needs that pop up in the future.
Whether it's a customer's complaint or a sudden issue that needs troubleshooting, you need a back-pocket support strategy. Where will you find developers who are familiar with your app? How will you quickly jump into problem-solving?
This cost is a bit complicated to predict. You'll need to account for the necessary resources, team members, and hours of work needed on a monthly basis.
As a rule of thumb, we encourage you to budget for at least 20 hours of application support per month – likely from your original development partner or other outsourced experts. If your application is mission-critical and you don't have an in-house expert, you may want to up that budget to 40 hours or more of paid support per month.
5. Evolution and Improvements
Don't just plan for problems – plan for updates. Like any application, your product will be expected to grow and evolve over time. You'll have new requirements, user expectations, and customer requests to meet.
How will you pay for and move forward with these improvements if it's not in the budget?
Even if the applications' uses and objectives never change, you'll need to update your app to stay compatible with the latest operating systems and technologies. Smartphones, computers, and web browsers are continually evolving – and your custom app will need to keep up.
Although you can always wait until you're forced to catch up with the latest trends, that's not the most cost-effective strategy. At Harlow Technologies, we're advocates of proactive upgrades and maintenance. Several continual small upgrades are easier to handle than one massive, time-sensitive improvement.
Think of it this way: you keep up with your car's oil changes, tire rotations, and other maintenance tasks so that you don't have to replace several elements at once later on. Your custom app will require the same level of planning and budgeting to be successful.
To Wrap Things Up
Your custom application is a big investment, and like all investments, it will need to be maintained long after its initial launch. Planning for support and upgrades upfront will help your team budget more efficiently and ensure you don't encounter nasty (expensive) surprises.
Feeling a little lost when it comes to the overall cost of custom-built applications? Turn to our team at Harlow Technologies.
As Certified Claris FileMaker Pros, we've been building applications for over two decades. We know development costs like the back of our hands, but more than that, we know what it costs to maintain, support, and improve applications over time. We also host FileMaker apps at a competitive price.
For help with your application budget and development, give us a call at 1-866-852-4HTI. You can also contact us online. We're happy to schedule a consultation with your team.
Web Manager