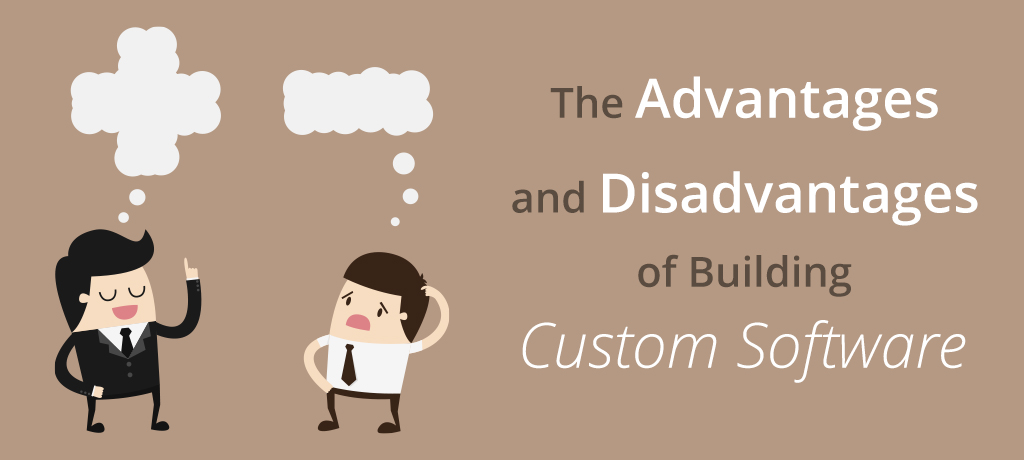 The Advantages and Disadvantages of Building Custom Software
Building a custom application is arguably the best way to get exactly what you want and need from an app you own. In recent years, it has become increasingly popular to design software around specific business requirements and interests.
The Harlow Technologies team has helped hundreds of clients create the perfect FileMaker application for their teams. However, our status as expert software developers doesn't mean we're blind to the pros and cons that come with custom apps.
When someone comes to us asking if a custom application is right for their team, here are some of the topics we cover. Our goal is always to help companies make the best decision for their unique needs and circumstances.
What Exactly Is Custom Software?
Let's start with the basics. Custom software is uniquely designed and created to perform specific tasks. Unlike off-the-shelf applications, custom apps are molded to fit a business's expectations and requirements.
In other words, developers like us adapt a FileMaker application to your needs, rather than finding software out there you can force to fit your needs.
Some companies do fine with standard, non-custom solutions. Still, the truth is that in most circumstances, having a custom FileMaker application is the best way to streamline your workflow and meet your requirements with expert precision.
Having said that, we don't push custom solutions on everyone. We want you to know all of your options before making the big decision to build an application from scratch.
What Are Your Other Application Choices?
Let's say you aren't committed to the idea of creating a custom app – but you do need an app that suits your company's requests and goals. You'll typically find yourself facing two other options:
1) Turnkey Software Products
A turnkey product is just what it sounds like. You purchase the product, set it up, and then use it with minimal configurations or customizations. It's easy, and if you can make it work for your team's needs, then great.
However, many companies find that there are functional and/or feature gaps in the software. These will need to be supplemented with manual processes, like filling out tedious spreadsheets or using another application to handle the first one's shortcomings.
2) Platforms
Your second option is to use a platform, which can offer more significant customization options than a turnkey software product. These are typically more expensive and time-consuming to configure, but you may find their flexibility is worth it for your business.
How Custom FileMaker Apps Are Different
Unlike turnkey software products or platforms, custom FileMaker software is designed, engineered, and constructed specifically to meet your team's needs. This gives you an unparalleled level of control, as well as a perfectly managed workflow.
If you want to avoid juggling multiple apps or using manual solutions, turning to custom application development is likely the best choice.
When Should You Design a Custom Application?
We can, without bias, say there are certain times when businesses should design a custom application.
For example, if you've been hunting across the software market and just can't find what you need, your best bet is to design a solution yourself. Not only will this ensure you get exactly what you want, but it will also help you avoid monthly usage expenses or per-user licensing fees.
Furthermore, you'll have no limitations on design or functionality. Our team has created a wide range of custom FileMaker applications and has seen endless possibilities.
We can integrate the application with practically any platform, form seamless connections between different software, and generally give your team whatever extensibility features it needs.
The last reason you might need a custom application? You want to market or license the product. Using a turnkey solution gives you no ability to create proprietary assets or "own" your application. A custom-designed FileMaker app does.
Potential Downsides of Building Custom Software
It'd be a little unfair of us to not share the potential cons of building your own custom software, so let's take a look.
1) Custom Applications Are Expensive
The first downside is the upfront cost to build a FileMaker application. Depending on the app's complexity and various requirements, it could easily cost more than $25K to create. Just the application's design can cost upwards of $8K.
Before committing to the concept of designing your own application, schedule a consultation with a team of professionals to learn how much it could cost you and what you can do to minimize the financial burden.
2) FileMaker Apps Require Maintenance
The second potential downside is the required upkeep you'll face after building your own application. When you use a turnkey software product, the product's company is responsible for updates, fixes, complaints, and more.
On the flip side, when you create your own app, your team is responsible for the product's maintenance and problems. For some company's will small IT teams or an already overwhelmed staff, this could be a deal-breaker. They'll likely need to outsource the maintenance to another company.
3) Custom Building an App Takes Time
If your company is in a rush to find a software solution, custom building a FileMaker app might not be the best option. Most applications take at least three months to design, create, and launch, if not closer to six months.
As you evaluate your options, we recommend asking yourself this: "Can I meet at least three-quarters of my business's needs with a turnkey, off-the-shelf product?"
If the answer is yes, then you might not be ready to justify the time and expense of a custom application. If the answer is no, then building a custom application could certainly be worthwhile.
Think a Custom FileMaker App Is Your Best Choice?
Custom software definitely has its pros and cons, but it's up to you to determine if its pros outweigh the cons enough to begin the process.
If you're struggling to understand what a custom app would do for your business (and if it's really worth it), we recommend scheduling a custom application system audit.
Have our team of professionals assess your business's needs, look at your current software setup, and reveal how a FileMaker application could revolutionize your workflow.
About Harlow Technologies' Custom Software
We'll admit it – we're not totally objective when it comes to assessing the benefits and downfalls of custom software. That's because, for more than 25 years, we've seen how 750 application projects have created happier, more successful clients in many industries.
Our job is to help your business save money, work efficiently, and focus on what is most important. It just so happens that custom FileMaker applications play a huge role in that.
Are you ready to speak with a custom app developer at Harlow Technologies? Schedule your initial consultation with us online. You can also call 1-866 852- 4HTI to get started.
Web Manager