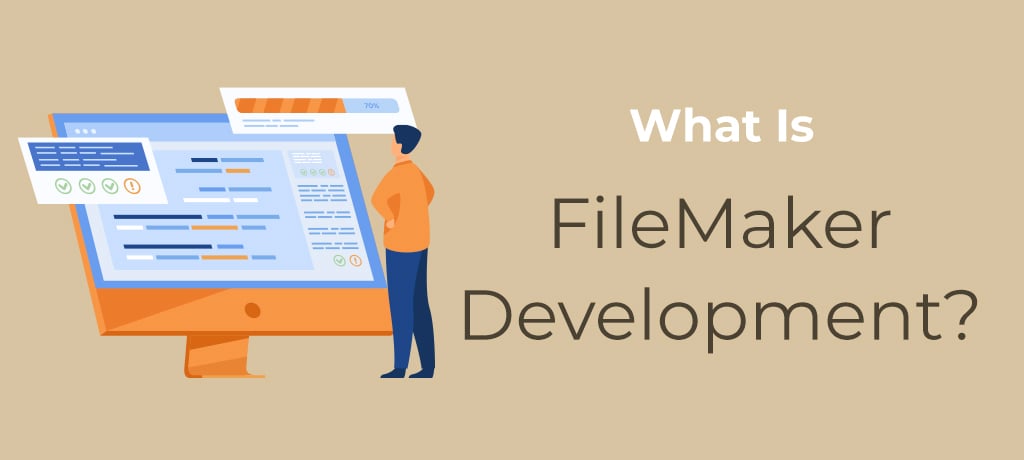 What Is FileMaker Development?
Today, we want to introduce you to a platform that's flexible, affordable, and able to build just about anything – including complex databases for your business.
We're talking about Claris FileMaker.
Harlow Technologies has been helping businesses create custom applications for more than two decades, and we've largely been able to do that based on our expert FileMaker Development skills. Although we're also adept at Filemaker hosting and maintenance, we're especially proud of our ability to create the exact app you need to succeed.
But what is FileMaker Development? How does it really benefit your business, and why should you look into this low-code platform for your specific needs?
We'll answer these questions and more in this comprehensive guide. Take a look to find out if FileMaker Development solutions might be right for you.
Understanding Claris FileMaker Development
What Is It?
The first thing we want to do is explain exactly what Claris FileMaker is and what it does. In short, FileMaker is a rapid application tool that allows teams like ours to quickly and easily develop systems for our clients' many different platforms.
It doesn't matter what you're trying to do – publish surveys, create contact forms, monitor customer responses, etc. FileMaker allows us to establish a live connection with external SQL sources like MySQL, Oracle, and Microsoft SQL.
Why Should Your Business Care?
What if you never had to deal with disorganized spreadsheets and forms spread across different platforms? What if you could centralize all of your important data and processes in one easy-to-use place?
With the help of a trained FileMaker Development, you can. Our FileMaker expertise means that we can develop intuitive platforms and applications to help you:
Visualize data.
Track assets.
Organize projects.
Create reports.
Manage contacts.
And more.
How FileMaker Development Works
Using the FileMaker platform, our developers create custom applications that meet your needs and that can be accessed from anywhere at any time. The system has some amazing built-in functions and features, but with our combined expertise, we're able to do even more.
We'll step in to combine FileMaker's innate capabilities with common web technologies, including:
The ultimate goal is to use our developer skills, coupled with FileMaker's abilities, to create apps that save your business time, money, and pain.
The Benefits of Using FileMaker for Development
1. Affordable Coding
One of the biggest reasons to develop applications with FileMaker is to save money (believe it or not). The cost of outsourcing FileMaker Development might seem high at first, but it pales in comparison to the price of hiring in-house developers or building an application completely from scratch.
To learn more about how much FileMaker Development services cost,reach out to our team. We can provide an accurate estimate once we know more about your brand, its needs, and your application requirements.
2. Quick Results
Another huge plus that comes with FileMaker Development: speed.
If you were to hire a developer to build unique software for your business from nothing, that would take months if not years to finalize. On the other hand, a "no-code" or "low-code" platform like FileMaker speeds up the process substantially. That means you get solutions faster.
Since you're already researching custom applications and development, it's probably safe to assume that you need a fix for a problem relatively quickly. Going through a FileMaker Development will fast-track your solutions and get your business rolling in a matter of weeks or months.
3. Cross-Platform Usability
You want all of your apps and platforms to work in synchronicity, and we do, too. FileMaker Development ensures that we can work with your existing data and applications, then build around them for a comprehensive, easy-to-use system.
Talk to our team about importing CSV and XML files, creating two-way connections, using SQL data, and any other cross-platform needs you might have.
4. Scalability
If you're not sure how much your business will grow in the next few years, or what exactly you'll need from your applications, FileMaker Development is a great fit. The Harlow Tech team has lots of experience expanding and altering custom applications as needed, which means we can scale your solutions as your business evolves.
5. Multiple Functionality
A strong benefit of FileMaker is its versatility. From handling personnel records to creating email campaigns, we've created apps that can do it all – under one big umbrella. Additionally, FileMaker was designed to work on Apple computers, but it can now work across all Windows devices.
6. Ease of Use
Finally, we'd be remiss if we didn't touch on FileMaker Development's ease of use. Once we've designed and installed a custom FileMaker application, employee training and engagement are straightforward. Getting everyone on the same page is a breeze.
What Can FileMaker Development Be Used For?
We're asked this question all the time, and honestly, we love to tell people that "the sky's the limit." To get your imagination rolling, though, FileMaker Development is often used for:
Invoicing clients
Integrating with QuickBooks
Customized executive dashboards
Streamlined project management
Regulatory review and approval
Enterprise resource planning
Planning and executing events
Registering students and teacher
Advanced Excel exports
If you have a specific need or request, let us know. Harlow Technologies has helped a wide range of clients in many industries including aerospace, biotechnology, education, entertainment, and pharmaceuticals. Trust us when we say we have a broad range of experience.
Frequently Asked Questions About Claris FileMaker
1. Is it actually easy to customize with FileMaker?
Absolutely. FileMaker was designed as a "workplace innovation platform." Its entire purpose to meet the ever-changing needs of all kinds of businesses with software that goes above and beyond. We've customized workplace solutions for businesses big and small in many industries, and we truly believe we can help with whatever needs you have.
2. What are the main aspects of the FileMaker platform?
There are three main parts of the FileMaker app development process. Let us explain them in the simplest way possible.
There's the architecture planning. How will you model your application and its tables, graphs, data collection, etc.?
There's scripting. That's a fancy way of saying that FileMaker and our developers will work our magic to make the application function as it should.
There's the UI/UX design. How will users experience the application, and what will it look like? It's up to the developers to ensure everything appears and works correctly.
There's a lot more that goes into the process than those simple points, but that's a conversation for another time. In short, those are the three main pillars of a successful FileMaker Development project.
3. How long does it typically take to build a custom application?
We don't have a firm answer for this one, simply because the length of a project depends on its scope. FileMaker Development projects are typically pretty fast, but the timeline will depend on your business's specific needs and requirements.
4. Can you use FileMaker to develop mobile apps?
Yep. We make it so that your applications can be accessed by any device at any time – including mobile phones. We're increasingly transitioning to a mobile society, and that means you need applications you can access right when you need them.
5. Why should I buy a customized FileMaker solution rather than a standard, off-the-shelf program?
Now, this is a loaded question. There are millions of apps out there all geared toward helping your business succeed, but how many of them really know what your business needs?
Off-the-shelf applications simply aren't developed for you. Sure, they might meet some of your needs, but you'll likely have to pair them with other strategies and platforms in order to get everything done.
FileMaker solutions, on the other hand, can be customized to meet your exact requests. They maximize efficiency while decreasing the number of applications you need to use on a regular basis. Your team will speed less time bouncing between different apps and "making stuff work."
If you have further questions about FileMaker Development expectations, goals, or abilities, don't wait to reach out to our team. We're here to help you understand the platform and all of its benefits.
Get Started with Claris FileMaker Today
There's so much that FileMaker can do for the average business, regardless of its size or industry. Its many benefits combined with its speed and accessibility make it one of the hottest development platforms on the market – and we can see why.
Curious about FileMaker Development? Let's start the conversation today.
Web Manager